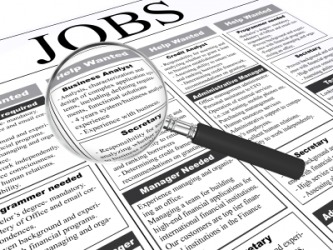 Tools you might use if you seek a job.
verb
Seek is defined as to search or look for something.

An example of seek is to actively be searching through help wanted ads.
---
seek
transitive verb
sought

,

seek′ing
to try to find; search for; look for
to go to; resort to: to seek the woods for peace

to try to get or find out by asking or searching: to seek the answer to a question
to request; ask for

to bend one's efforts toward; aim at; pursue: seeking perfection
to try; attempt: used with an infinitive: to seek to please someone

Archaic

to explore
Origin of seek
Middle English
seken
from Old English
secan
, akin to Old Saxon
s?kian
, German
suchen
, Old Norse
sœkja
from Indo-European base an unverified form
s?g-
, to track down, trace from source Classical Latin
sagire
, to scent out, perceive
to look for someone or something
to make a search or investigation: to seek after something

Archaic

to resort (to)
---
seek
verb
sought, seek·ing, seeks
verb
transitive
To try to locate or discover; search for: animals seeking prey.
To endeavor to obtain or reach: seek a college education.
To go to or toward: Water seeks its own level.
To inquire for; request: seek directions from a police officer.
To try; endeavor: seek to do good.
verb
intransitive
To make a search or investigation: Seek and you will find.
Origin of seek
Middle English
sechen, seken
from
Old English
sēcan
; see
sāg-
in Indo-European roots.
---
seek

Verb
(third-person singular simple present seeks, present participle seeking, simple past and past participle sought)
To try to reach or come to; to go to; to resort to.
Origin
From Middle English seken (also sechen), from Old English sÄ"Ä‹an ("to seek; try to find, to look for, make search for; try to get; strive to effect, aim at, strive after; seek after, try to provide for; try to find out by investigation or examination; enquire about; try to learn by asking, ask, ask for, inquire; look to for, expect from; visit, go to; resort to; go, move, proceed; approach, attain to; attack, pursue, follow"), with influence from Old Norse sÅ"kja, whence the hard /k/ sound (compare beseech); both from Proto-Germanic *sōkijanÄ… ("to seek") (compare West Frisian sykje, Low German söken, Dutch zoeken, German suchen, Danish søge). Ultimately from Proto-Indo-European *sehâ''g- ("to seek out").
See also:
sek
---
seek - Computer Definition
(1) To move the access arm to the requested track on a disk.
(2) An assembly language instruction that activates a seek operation on disk.
(3) A high-level programming language command used to select a record by key field.
---