sag

sag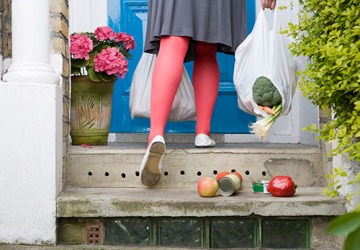 When the bags started to sag from the weight of the groceries, Karen had a feeling that a least one of them would break.
noun
The definition of a sag is an act of drooping, bending or sinking, or a sunken place.

An example of a sag is a huge depression in the ground.
verb
Sag is defined as to drop down, droop or hang down unevenly.

An example of sag is for the middle of a bed to start caving in.
---
sag
intransitive verb
sagged

,

sag′ging
to sink, bend, or curve, esp. in the middle, from weight or pressure
to hang down unevenly or loosely
to lose firmness, strength, or intensity; weaken through weariness, age, etc.; droop: sagging spirits
to decline in price, value, sales, etc.

Naut.

to drift: to sag to leeward
Origin of sag
Middle English
saggen
, probably from Scand, akin to Swedish
sacka
, Norwegian dialect, dialectal
sakka, sagga
from Indo-European base an unverified form
sengw-
, to sink
the act or an instance of sagging
the degree or amount of sagging
a place of sagging; sunken or depressed place
SAG
---
sag
verb
sagged, sag·ging, sags
verb
intransitive
To sink, droop, or settle from pressure or weight.
To lose vigor, firmness, or resilience: My spirits sagged after I had been rejected for the job.
To decline, as in value or price: Stock prices sagged after a short rally.
Nautical To drift to leeward.
To wear one's pants with the waist below the hips, so that one's underwear is visible.
verb
transitive
To cause to sag.
noun
a. The act or an instance of sagging.

b. The degree or extent to which something sags.

a. A sagging or drooping part or area: tried to brush out the paint sags.

b. A sunken area of land; a depression.

A sagging area; a depression.
A decline, as in monetary value.
Nautical A drift to leeward.
Origin of sag
Middle English
saggen
probably
of Scandinavian origin
Swedish
sacka
to sink
Related Forms:
---
sag

Verb
(third-person singular simple present sags, present participle sagging, simple past and past participle sagged)
Origin
From late Middle English saggen, probably of Scandinavian/Old Norse origin (compare Norwegian sagga ("move slowly")); probably akin to Danish and Norwegian sakke, Swedish sacka, Icelandic sakka, Old Norse sokkva. Cf. also Low German sacken, Dutch zakken.
Noun
(uncountable)
Alternative form of saag.
Initialism
(on a letter), Saint Anthony Guard (Guide).
Acronym
Screen Actors Guild
---
sag - Computer Definition
---