wilt

wilt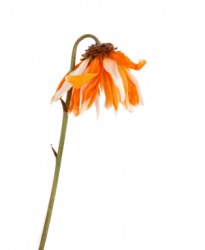 This flower has wilted.
verb
Wilt means to become limp.

An example of wilt is for a flower to fold in half after it hasn't had water for a few days.
An example of wilt is for a person to become faint after heavy exertion.

To wilt is to get weak.

An example of to wilt is to get very hot and feel faint.
---
wilt
to become limp, as from heat or lack of water; wither; droop: said of plants
to become weak or faint; lose strength; languish
to lose courage; quail
Origin of wilt
variant, variety of obsolete
welk
, to wither from Middle English
welken
, to fade, wither, dry up, akin to Old High German
welc
, damp, wilted from Indo-European an unverified form
welg-
, variant, variety of base an unverified form
welk-
, moist, damp from source Old English
wealg
, nauseous
a wilting or being wilted

also, esp. for

a

,

wilt disease

a highly infectious disease of some caterpillars, in which the carcasses liquefy
any of several plant diseases caused by certain bacteria or fungi and characterized by wilting of the leaves
Archaic
will: used with
thou
---
wilt
verb
wilt·ed, wilt·ing, wilts
verb
intransitive
To become limp or flaccid; droop: plants wilting in the heat.
To feel or exhibit the effects of fatigue or exhaustion; weaken markedly: "His brain wilted from hitherto unprecedented weariness" ( Vladimir Nabokov )
verb
transitive
To cause to droop or lose freshness: The heat wilted the flowers.
To deprive of energy or vigor; fatigue or exhaust: Worry wilted the parents.
noun
The action of wilting or the state of being wilted.
Any of various plant diseases characterized by slow or rapid collapse of terminal shoots, branches, or entire plants.
Origin of wilt
Possibly alteration of
dialectal
welk
from
Middle English
welken
aux.v.
Archaic
A second person singular present tense of
will
2
---
wilt

---