bloom

bloom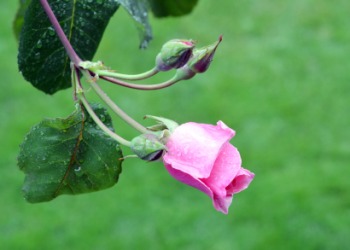 A delicate bloom on a rose bush.
noun
The definition of bloom means the flower of a plant or the state of being in a healthy condition.

An example of a bloom is a bud on a rose.
An example of a bloom is a glowing complexion.
---
bloom
a flower; blossom
flowers collectively, as of a plant
the state or time of flowering
a state or time of best health or greatest beauty, vigor, or freshness; prime
a youthful, healthy glow (of cheeks, skin, etc.)
the grayish, powdery coating on various fruits, as the plum, grape, etc., and on some leaves
any similar coating, as on new coins
a mass of planktonic algae in lakes, ponds, or the sea, as in the development of red tides
Origin of bloom
Middle English
blom
from Old Norse
blomi,
flowers and foliage on trees from Indo-European an unverified form
bhl?-
, variant, variety of base an unverified form
bhel-
, to swell, sprout from source blade, bleed, Classical Latin
flos,
flower, Classical Greek
phyllon,
leaf
to bear a flower or flowers; blossom
to reach a prime condition, as in health, vigor, beauty, perfection, etc.; flourish
to glow with color, health, etc.
Archaic
to cause to bloom, flower, or flourish
a spongy mass of wrought iron ready for further working
a thick bar of iron or steel obtained by rolling or hammering an ingot
Origin of bloom
Old English
bloma,
lump of metal
---
bloom
noun
a. The flower of a plant.

b. Something resembling the flower of a plant: "Her hair was caught all to one side in a great bloom of frizz" ( Anne Tyler )

a. The condition of being in flower: a rose in full bloom.

b. A condition or time of vigor and beauty; prime: "the radiant bloom of Greek genius" ( Edith Hamilton )

A fresh, rosy complexion: "She was short, plump, and fair, with a fine bloom" ( Jane Austen )

a. A waxy or powdery whitish to bluish coating on the surface of certain plant parts, as on cabbage leaves or on a plum or grape.

b. A similar coating, as on newly minted coins.

c. Grayish blotches or streaks on the surface of chocolate produced by the formation of cocoa butter crystals.

Glare that is caused by a shiny object reflecting too much light into a camera.
A colored area on the surface of a body of water caused by large numbers of phytoplankton, especially cyanobacteria.
verb
bloomed, bloom·ing, blooms
verb
intransitive
a. To bear a flower or flowers.

b. To support plant life in abundance: rains that made the yard bloom.

To glow; be radiant: "Our summer-gray potbellied stove bloomed rosy red during winter" ( Maya Angelou )
To mature or flourish with youth and vigor: genius blooming under a great teacher.
To appear or come into being suddenly: "Her pale shoulders bloomed from the green flounces" ( Erin McGraw )
verb
transitive
To cause to flourish.
Obsolete To cause to flower.
Origin of bloom
Middle English
blom
from
Old Norse
blōm
; see
bhel-
3
in Indo-European roots.
Related Forms:
bloom1
yellowish phytoplankton bloom at the Leighton Moss nature reserve near Carnforth,
England
noun
A bar of steel prepared for rolling.
A mass of wrought iron ready for further working.
Origin of bloom
Middle English
blome
lump of metal
from
Old English
blōma
; see
bhel-
3
in Indo-European roots.
---
bloom

Noun
(plural blooms)
Flowers, collectively.
(uncountable) The opening of flowers in general; the state of blossoming or of having the flowers open.

The cherry trees are in bloom.

A state or time of beauty, freshness, and vigor/vigour; an opening to higher perfection, analogous to that of buds into blossoms.

the bloom of youth

The delicate, powdery coating upon certain growing or newly-gathered fruits or leaves, as on grapes, plums, etc.
Anything giving an appearance of attractive freshness.
The clouded appearance which varnish sometimes takes upon the surface of a picture.
A yellowish deposit or powdery coating which appears on well-tanned leather.

(mineralogy) A popular term for a bright-hued variety of some minerals.

the rose-red cobalt bloom

A white area of cocoa butter that forms on the surface of chocolate when warmed and cooled.
Origin
From Middle English blome, from Old Norse blóm, from Proto-Germanic *blōmô (compare West Frisian blom, Low German Bloom, Dutch bloem, German Blume, Danish blomme, Swedish blomma), from *blōaną, from Proto-Indo-European *bleh₃- ("to thrive, flower, bloom") (compare Irish blath ("leaf"), Latin folium ("leaf"), Albanian bilonjë ("twig, branch"), Ancient Greek [script?] (phýllon, "leaf")). More at blow.
Verb
(third-person singular simple present blooms, present participle blooming, simple past and past participle bloomed)
(intransitive) Of a plant, to produce blooms; to open its blooms.
(intransitive, figuratively) Of a person, business, etc, to flourish; to be in a state of healthful, growing youth and vigour; to show beauty and freshness.
Origin
From Middle English bloom ("a blossom")
Origin
From Old English blōma
---