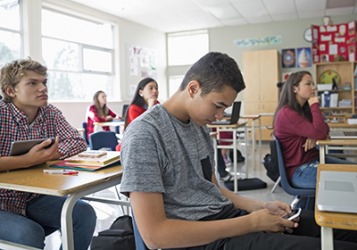 Teenagers can suffer from text neck when they slouch over their phones too much.
noun
Slouch is defined as an incompetent person or a lazy, drooping, improper posture.

The casual, lazy position you sit in when slumped on the sofa instead of sitting up straight is an example of a slouch.
A person who is extremely skilled at playing poker is an example of someone who is no slouch at poker.
verb
The definition of slouch is to move, sit or stand with bad posture, with your shoulders bent forward.

When you are slumped over on the sofa instead of sitting up straight, this is an example of when you slouch on the sofa.
---
slouch
a person who is awkward or lazy

Informal

a person who is incompetent: usually with a negative: she's no slouch at golf

a drooping or bending forward of the head and shoulders
slovenly posture in general

a hanging down or drooping, as of a hat brim
Origin of slouch
from uncertain or unknown; perhaps dialect, dialectal
slouk
, a lazy fellow from Old Norse
sl?kr
from
sl?ka
, to hang down, droop from Indo-European an unverified form
(s)leug-
, variant, variety of base an unverified form
(s)leu-
, to hang limply from source slug, sleet
to sit, stand, walk, etc. in a slouch
to droop, as a hat brim
---
slouch
verb
slouched, slouch·ing, slouch·es
verb
intransitive
To sit, stand, or walk with an awkward, drooping posture.
To droop or hang carelessly, as a hat.
verb
transitive
To cause to droop; stoop.
noun
An awkward, drooping posture or gait.
Slang An awkward, lazy, or inept person: good at chess and no slouch at bridge, either.
Origin of slouch
Origin unknown
Related Forms:
---
slouch

Noun
(countable and uncountable, plural slouches)
A hanging down of the head; a drooping posture; a limp appearance

He sat with an unenthusiastic slouch.

any depression or hanging down, as of a hat brim.

The plant hung in a permanent slouch.

(dated) An awkward, heavy, clownish fellow.
Verb
(third-person singular simple present slouches, present participle slouching, simple past and past participle slouched)
(intransitive) To walk in a clumsy, lazy manner.

I slouched to the fridge to see if there was anything to eat.
Origin
From Old Norse slókr ("a slouching, lazy fellow") , (cognate to Swedish sloka, to wilt, slouch.
---