professional

pro·fes·sion·al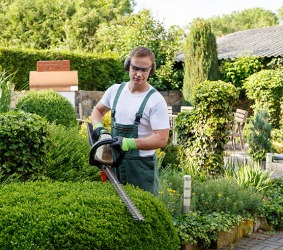 A professional landscaper
adjective
Professional is defined as performing a job to high standards, a school of higher education, or someone who does a specific type of work to earn a living.

A well-respected landscape company is an example of a company with professional results.
A business graduate school is an example of something professional.
A certified public accountant is an example of someone professional.
noun
The definition of a professional is someone who works in a particular field.

An example of a professional is someone who plays football in the NFL.
---
professional
of, engaged in, or worthy of the high standards of a profession
designating or of a school, esp. a graduate school, offering instruction in a profession
earning one's living from an activity, such as a sport, not normally thought of as an occupation
engaged in by professional players: professional hockey
engaged in a specified occupation for pay or as a means of livelihood: a professional writer

of or having to do with a profession or one's profession: a professional journal, an actor's professional name
engaged in a profession

being such in the manner of one practicing a profession: a professional hatemonger
a person practicing a profession

a person who engages in some art, sport, etc. for money, esp. as a means of livelihood, rather than as a hobby
pro (noun)

a person who does something with great skill
---
professional
adjective
a. Of, relating to, engaged in, or suitable for a profession: lawyers, doctors, and other professional people.

b. Conforming to the standards of a profession: professional behavior.

Engaging in a given activity as a source of livelihood or as a career: a professional writer.
Performed by persons receiving pay: professional football.
Having or showing great skill; expert: a professional repair job.
noun
A person following a profession, especially a learned profession.
One who earns a living in a given or implied occupation: hired a professional to decorate the house.
A skilled practitioner; an expert.
Related Forms:
pro·fes′sion·al·ly

adverb
---
professional

Noun
(plural professionals)
A person who belongs to a profession
A person who earns his living from a specified activity
An expert.
Adjective
(comparative more professional, superlative most professional)
Of, pertaining to, or in accordance with the (usually high) standards of a profession.
That is carried out for money, especially as a livelihood.
(by extension) Expert.
---