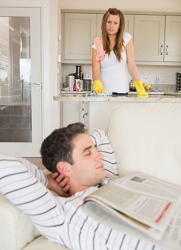 Reggie was being a slacker while his wife did all of the chores around the house.
noun
The definition of a slacker is an unmotivated person who doesn't work very hard or who doesn't have a lot of ambition.

A guy who sits around on the couch all day and does nothing productive is an example of a slacker.
---
slacker
a person who shirks work or duty
a person who evades military service in wartime

Informal

a young person, typically in his or her twenties, variously regarded as idle, lazy, unambitious, etc.
---
slacker
noun
One who shirks work or responsibility.
One who tries to evade military service in wartime; a draft dodger.
---
slacker

Origin
From slack +"Ž -er; compare especially slack off.
---