noun
The definition of a droop is an act of hanging down, bending down or losing power.

An example of a droop is the act of a once first place team falling to ruin and losing the game.
verb
Droop is defined as to hang down, bend down or to lose strength.

An example of roop is to turn a smile into a frown with sadness.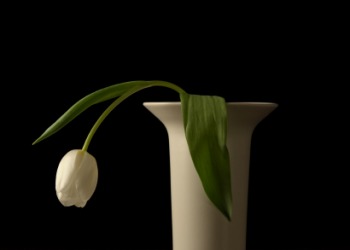 A drooping tulip.
---
droop definition by Webster's New World
intransitive verb
to sink down; hang or bend down
to lose vitality or strength; become weakened; languish
to become dejected or dispirited
Origin: Middle English droupen ; from Old Norse drūpa: for Indo-European base see drip
transitive verb
to let sink or hang down
noun
an act or instance of drooping
Webster's New World College Dictionary Copyright © 2010 by Wiley Publishing, Inc., Cleveland, Ohio. Used by arrangement with John Wiley & Sons, Inc.
---
droop definition by American Heritage Dictionary
verb
drooped
,
droop·ing
,
droops
verb
, intransitive
To bend or hang downward: "His mouth drooped sadly, pulled down, no doubt, by the plump weight of his jowls" (Gore Vidal).
To bend or sag gradually: flowers drooping in the midday heat.
To sag in dejection or exhaustion: drooped from lack of sleep.
verb
, transitive
To let bend or hang down: "He drooped his body over the rail" (Norman Mailer).
noun
The act or condition of drooping.
Origin: Middle English droupen, from Old Norse drūpa; see dhreu- in Indo-European roots.
Related Forms:
droopˈi·ly, droopˈing·ly

adverb