verb
The definition of inflate is to fill an expandable structure with air or gas to make it larger, or to exaggerate something or increase something by a large amount.

When you blow up a balloon or fill it with helium, this is an example of when you inflate.
When a balloon is filled with helium and grows rounder and larger, this is an example of when it inflates.
When you have a minor little paper cut and you act as if you are dying, this is an example of when you = inflate the importance of the cut.
When the cost of a movie ticket goes from $2 to $10, this is an example of a time the theatre inflates the prices.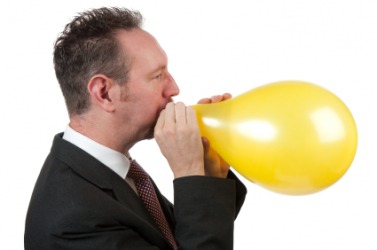 A man inflates a balloon.
---
inflate definition by Webster's New World
transitive verb
inflated, inflating
to blow full or swell out as with air or gas; distend; expand; dilate
to raise in spirits; make proud or elated
to increase or raise beyond what is normal or valid
to cause inflation of (money, credit, etc.)
Origin: ; from Classical Latin inflatus, past participle of inflare, to blow into, inflate ; from in-, in plush flare, to blow
intransitive verb
to become inflated; swell
---
inflate definition by American Heritage Dictionary
verb
in·flat·ed
,
in·flat·ing
,
in·flates
verb
, transitive
To fill (something) with air or gas so as to make it swell.

a. To enlarge or amplify unduly or improperly; aggrandize.

b.

To raise or expand abnormally or improperly. See Synonyms at

exaggerate

.

To cause (a currency or an economy) to undergo inflation.
verb
, intransitive
To become inflated.
Origin: Middle English inflaten, from Latin īnflāre, īnflāt- : in-, in; see in-2 + flāre, to blow; see bhlē- in Indo-European roots.
Related Forms:
in·flaˈtor, in·flatˈer

noun