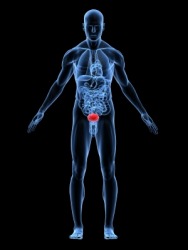 A human image with the bladder highlighted.
noun
The bladder is defined as a bag in the body to hold urine, or something resembling this bag.

An example of the bladder is the part of the body that feels full when one needs to urinate.
---
bladder
a bag consisting of or lined with membranous tissue in the body of many animals, capable of inflation to receive and contain liquids or gases; esp. the urinary bladder in the pelvic cavity, which holds urine flowing from the kidneys
a thing resembling such a bag, as the inflatable rubber bag inside the leather cover of a football

an inflated covering of certain fruits
an air sac, as in some water plants
Origin of bladder
Middle English
bladre
from Old English
blæddre
from Indo-European an unverified form
bhl?-
: see blast
---
bladder
noun
a. Anatomy Any of various distensible membranous sacs, such as the urinary bladder or the swim bladder, that serve as receptacles for fluid or gas.

b. Medicine A blister, pustule, or cyst filled with fluid or air; a vesicle.

c. An item resembling one of the membranous sacs in animals: the bladder of a buoyancy compensator.

Botany Any of various hollow or inflated saclike organs or structures, such as the floats of certain seaweeds or the specialized traps of bladderworts.
Origin of bladder
Middle English
bladdre
from
Old English
blǣdre
; see
bhlē-
in Indo-European roots.
---
bladder

Noun
(plural bladders)
(zoology) A flexible sac that can expand and contract and that holds liquids or gases.
(anatomy) Specifically, the urinary bladder.
(botany) A hollow, inflatable organ of a plant.
The inflatable bag inside various balls used in sports, such as footballs and rugby balls.
A sealed plastic bag that contains wine and is usually packaged in a cask.
(figuratively) Anything inflated, empty, or unsound.
Verb
(third-person singular simple present bladders, present participle bladdering, simple past and past participle bladdered)
To store or put up in bladders.

bladdered lard
Origin
Akin to Old High German platara (German Blatter) and Old Norse blaðra (Danish blære).
---