verb
To billow is to swell outward or to move or rise up as if caused by waves.

An example of billow is when fabric blows outward in the wind.
An example of billow is when smoke wafts upward in gentle waves.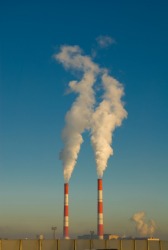 Smoke is billowing out of these factory chimneys.
---
billow definition by Webster's New World
noun
a large wave; great swell of water
any large swelling mass or surge, as of smoke, sound, etc.
Origin: Old Norse bylgja: see belly
intransitive verb
to surge, swell, or rise like or in a billow
transitive verb
to make billow or surge
Webster's New World College Dictionary Copyright © 2010 by Wiley Publishing, Inc., Cleveland, Ohio. Used by arrangement with John Wiley & Sons, Inc.
---
billow definition by American Heritage Dictionary
noun
A large wave or swell of water.
A great swell, surge, or undulating mass, as of smoke or sound.
verb
bil·lowed
,
bil·low·ing
,
bil·lows
verb
, intransitive
To surge or roll in billows.
To swell out or bulge: sheets billowing in the breeze.
verb
, transitive
To cause to billow: wind that billowed the sails.
Origin: From Old Norse bylgja, a wave; see bhelgh- in Indo-European roots.
Related Forms: