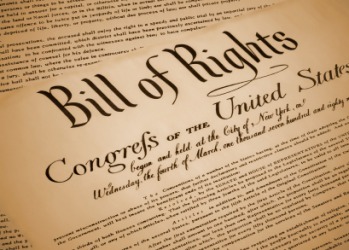 The bill of Rights.
noun
The Bill of Rights is defined as the first ten amendments to the U.S. Constitution.

An example of the Bill of Rights are the 1st through 10th amendments of the US Constitution.
---
bill of rights
[B- of R-] an act of the British Parliament passed in 1689, to confirm certain rights of the people and of Parliament
[B- of R-] the first ten amendments to the Constitution of the U.S., which guarantee certain rights to the people, as freedom of speech, assembly, and worship
any list of basic rights, guarantees, etc. regarded as essential to a particular group of people: a bill of rights for consumers
---
bill of rights
noun
pl.
bills of rights
A formal summary of those rights and liberties considered essential to a people or group of people: a consumer bill of rights.
Bill of Rights The first ten amendments to the US Constitution, added in 1791 to protect certain rights of citizens.
Bill of Rights A declaration of certain rights of subjects, enacted by the English Parliament in 1689.
---
bill-of-rights

Noun
(plural bills of rights)
A formal statement of the rights of a specified group of people
---
bill of rights - Legal Definition
n
A section or addendum, usually in a constitution of a country, state, or other similar political entity, specifying the civil and political rights of the entity's citizens or residents and the limits on the entity's government to infringe on or interfere with those rights.
Any formal list of rights given to a group of individuals by statutes or by adoption by an organization or institution. For example, a law concerning the provision of services for the elderly may include a senior citizens' bill of rights.
Bill of Rights
n
The first ten amendments to the United States Constitution.
---