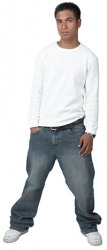 Sean prefers saggy jeans even though his girlfriend buys him tailored slacks.
adjective
The definition of saggy is something that is not firm or hangs down.

An example of saggy is a mattress that has indentations.
An example of saggy is skin after a significant amount of weight has been lost.
---
saggy
adjective
-·gier

,

-·gi·est
inclined to sag
---
saggy

Adjective
(comparative saggier, superlative saggiest)
Baggy or loose-fitting.
That sinks or droops from wear or its own weight.
---