basin

ba·sin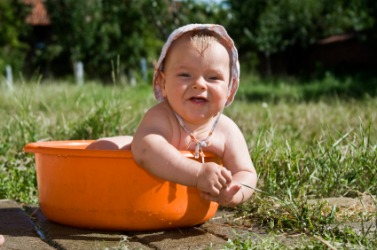 A baby playing in a basin.
noun
The definition of a shallow container which will hold liquids such as water, or a shallow, bowl-shapped depression on land filled with water, or when rock layers all tilt away from a center area.

An example of a basin is a container in which laundry can be handwashed.
An example of a basin is the Amazon Basin where the Amazon River and all its branches and tributaries drain.
An example of a basin isthe Nashville Basin in Tennessee where all of the rock strata angle down and away from Nashville.
---
basin
a round, wide, shallow container, as for holding water to wash in
its contents or capacity
a washbowl or sink
any shallow, rounded hollow or depression, often containing water, as a pond
a bay or harbor: yacht basin
all the land drained by a river and its branches
a great hollow in the earth's surface filled by an ocean

Geol.

a wide, depressed area in which the rock layers all incline toward a central area
Origin of basin
Middle English and Old French
bacin
from Vulgar Latin an unverified form
baccinum
from an unverified form
bacca,
water vessel
---
basin
noun
a. An open, shallow, usually round container used especially for holding liquids.

b. The amount that such a vessel can hold.

A washbowl; a sink.

a. A body of water that is connected to the sea and is partially or almost completely enclosed by land.

b. A small body of water that is artificially enclosed.

See watershed.
Geology

a. A broad tract of land in which the rock strata are tilted toward a common center.

b. A large, bowl-shaped depression in the surface of the land or ocean floor.
Origin of basin
Middle English
from
Old French
bacin
from
Vulgar Latin
baccīnum
from
baccus
container
of Celtic origin
Related Forms:
---
basin

---