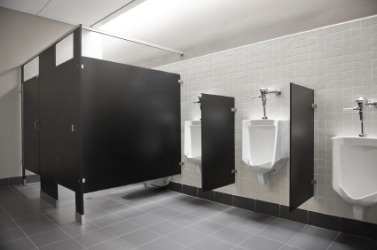 A public lavatory.
noun
Lavatory is defined as a bathroom with a toilet and washbowl, or can also refer to just the toilet.

When you need to urinate and you go to a room where a toilet is located, the room you go to is an example of a lavatory.
The toilet that you use to urinate into is an example of a lavatory.
---
lavatory
noun
pl.
-·ries
Now Rare

a bowl or basin, esp. one with faucets and drainage, for washing the face and hands; washbowl

a room equipped with a washbowl and flush toilet

Chiefly Brit.

a flush toilet
Origin of lavatory
Late Latin
lavatorium
from Classical Latin
lavare
, to wash: see lave
---
lavatory
noun
pl.
lav·a·to·ries
A room equipped with washing and often toilet facilities; a bathroom.
A washbowl or basin, especially one permanently installed with running water.
A flush toilet.
Origin of lavatory
Middle English
piscina
from
Late Latin
lavātōrium
from
lavātor
launderer
from
Latin
lavāre
to wash
; see
leu(ə)-
in Indo-European roots.
---
lavatory

Noun
(plural lavatories)
(UK, New England) A toilet, a water closet.
Adjective
(not comparable)
(dated) Washing, or cleansing by washing.
---