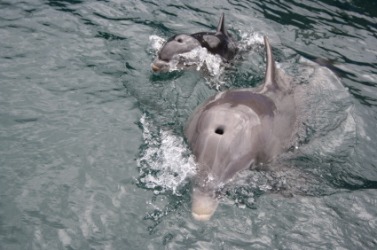 A picture of two dolphins showing their blowholes.
---
blowhole
noun
a nostril in the top of the head of whales and certain other cetaceans, through which they breathe
a hole through which gas or air can escape, esp. in lava
a hole in the ice to which seals, whales, etc. come to get air
a vertical opening or chimney in the roof of a sea cave through which air and water are forced by the action of the waves and the rising tides
a flaw in cast metal caused by an air or gas bubble
---
blowhole
noun
An opening or one of a pair of openings for breathing, located on the top of the head of cetaceans, such as whales and dolphins. The blowhole is opened by muscles upon surfacing and closed by the pressure of water upon diving.
A hole in ice to which aquatic mammals, such as dolphins, come to breathe.
A vent to permit the escape of air or other gas.
blowhole
bottlenose dolphin
---
blowhole
Noun
(plural blowholes)
A top-facing opening to a cavity in the ground very near an ocean's shore, that leads to a marine cave from which wave water and/or bursts of air are expelled.
An unintended cavity filled with air in a casting product.
---