noun
The definition of a foyer is an entry hall or open area.

The entry hall in your apartment house is an example of a foyer.
The large open area in a theater before you go into the auditorium is an example of a foyer.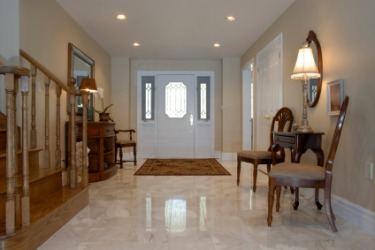 The foyer of a house.
---
foyer definition by Webster's New World
noun
an entrance hall or lobby, esp. in a theater, hotel, or apartment house
Origin: French lobby, greenroom, literally , hearth ; from Midieval Latin focarium ; from focarius, of the hearth ; from Classical Latin focus, hearth: see focus
Webster's New World College Dictionary Copyright © 2010 by Wiley Publishing, Inc., Cleveland, Ohio. Used by arrangement with John Wiley & Sons, Inc.
---
foyer definition by American Heritage Dictionary
noun
A lobby or anteroom, as of a theater or hotel.
An entrance hall; a vestibule.
Origin: French, social center, from Old French foier, fireplace, from Vulgar Latin *focārium, from Late Latin, neuter of focārius, of the hearth (unattested sense), from Latin focus, fire.