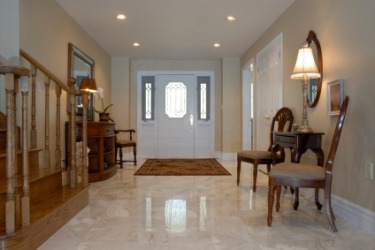 The foyer of a house.
noun
The definition of a foyer is an entry hall or open area.

The entry hall in your apartment house is an example of a foyer.
The large open area in a theater before you go into the auditorium is an example of a foyer.
---
foyer
an entrance hall or lobby, esp. in a theater, hotel, or apartment house
Origin of foyer
Fr, lobby, greenroom, literally , hearth from Medieval Latin
focarium
from
focarius
, of the hearth from Classical Latin
focus
, hearth: see focus
---
foyer
noun
A lobby or anteroom, as of a theater or hotel.
An entrance hall; a vestibule.
Origin of foyer
French
social center
from
Old French
foier
fireplace
from
Vulgar Latin
focārium
from
Late Latin
neuter of
focārius
of the hearth (unattested sense)
from
Latin
focus
fire
---
foyer

Noun
(plural foyers)
A lobby, corridor, or waiting room, used in a hotel, theater, etc.

We had a drink in the foyer waiting for the the play to start.
---