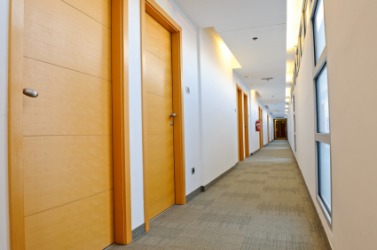 A hall in a hotel.
noun
The definition of a hall is a central room, public room or passageway between rooms.

An example of a hall is a large public room used for events and dancing.
An example of a hall is a passageway from a living room to a bedroom.
---
hall
Historical

the great central room in the dwelling of a king or chieftain, where banquets, games, etc. were held
the dwelling itself

the main dwelling on the estate of a baron, squire, etc.
[sometimesH-] a building containing public offices or the headquarters of an organization, for transacting business, holding meetings, etc.
a large public or semipublic room for gatherings, entertainments, etc.
[sometimesH-] a college dormitory, classroom building, eating center, etc.
a passageway or room between the entrance and the interior of a building; vestibule, foyer, or lobby
a passageway or area onto which rooms open
Origin of hall
Middle English
halle
from Old English
heall
(akin to German
halle
), literally , that which is covered from base of
helan
, to cover from Indo-European base an unverified form
kel-
, to cover from source hell, Classical Latin
celare
, to conceal
Hall
1863-1914; U.S. chemist: discovered electrolytic process for reducing aluminum from bauxite

1844-1924; U.S. psychologist & educator
---
hall
noun
A corridor or passageway in a building.
A large entrance room or vestibule in a building; a lobby.

a. A building for public gatherings or entertainments.

b. The large room in which such events are held.

A building used for the gatherings and social activities of a church, fraternal order, or other organization.

a. A building belonging to a school, college, or university that provides classroom, dormitory, or dining facilities.

b. A large room in such a building.

c. The group of students using such a building: The entire hall stayed up late studying.

d. Chiefly British A meal served in such a building.

The main house on a landed estate.

a. The castle or house of a medieval monarch or noble.

b. The principal room in such a castle or house, used for dining, entertaining, and sleeping.
Origin of hall
Middle English
halle
large residence
from
Old English
heall
; see
kel-
1
in Indo-European roots.
---
hall

Noun
(plural halls)
A meeting room.

The hotel had three halls for conferences, and two were in use by the convention.

A manor house (originally because a magistrate's court was held in the hall of his mansion).

The duke lived in a great hall overlooking the sea.

A building providing student accommodation at a university.

The student government hosted several social events so that students from different halls would intermingle.
Origin
From Middle English halle, from Old English heall ("hall, dwelling, house; palace, temple; law-court"), from Proto-Germanic *hallō ("hall"), from Proto-Indo-European *ḱel- ("to hide, conceal"). Cognate with Scots hall, haw ("hall"), Dutch hal ("hall"), German Halle ("hall"), Swedish hall ("hall"), Icelandic höll ("palace"), Latin cella ("room, cell"), Sanskrit [script?] (śā́lā, "house, mansion, hall"). [Devanagari?]
---