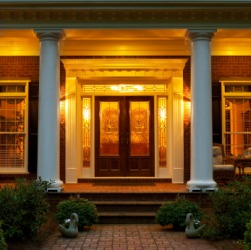 The entrance to a home.
noun
The definition of an entrance is where you go in someplace, such as a door, or coming into someplace in a memorable way, or an actor coming on stage.

The front door to your home is an example of an entrance.
When you sweep into a room and all eyes turn to look at you, this is an example of a situation where you have made an entrance.
When an actor comes onto the stage, this is an example of his entrance.
verb
To entrance is defined as to cast a spell on someone or to fill someone with wonder.

When you capture someone's attention and fill him with wonder, this is an example of a time when you entrance him.
---
entrance
the act or point of entering: to make an entrance
a place for entering; door, gate, etc.
permission, right, or power to enter; admission
Origin of entrance
Middle English
entraunce
from Old French
entrant
, present participle of
entrer
: see enter
transitive verb
-·tranced′

,

-·tranc′ing
to put into a trance
to fill with rapture or delight; enchant; charm; enrapture
Origin of entrance
en- + trance
---
entrance
noun
The act or an instance of entering.
A means or point by which to enter.
Permission or power to enter; admission: gained entrance to medical school.
The point, as in a musical score, at which a performer begins.
The first entry of an actor into a scene.
Nautical The immersed part of a ship's hull forward of the middle body.
Origin of entrance
Middle English
entraunce
right to enter
from
Old French
from
entrer
to enter
; see
enter
.
transitive verb
en·tranced, en·tranc·ing, en·tranc·es
To put into a trance.
To fill with delight, wonder, or enchantment: a child who was entranced by a fairy tale. See Synonyms at charm.
Related Forms:
---
entrance

Noun
(countable and uncountable, plural entrances)
(countable) The action of entering, or going in.

Her entrance attracted no attention whatsoever.

The act of taking possession, as of property, or of office.

the entrance of an heir upon his inheritance, or of a magistrate into office

(countable) The place of entering, as a gate or doorway.

Place your bag by the entrance so that you can find it easily.

(uncountable) The right to go in.

You'll need a ticket to gain entrance to the museum.
to give entrance to friends

The entering upon; the beginning, or that with which the beginning is made; the commencement; initiation.

a difficult entrance into business

The causing to be entered upon a register, as a ship or goods, at a customhouse; an entering.

His entrance of the arrival was made the same day.

(nautical) The angle which the bow of a vessel makes with the water at the water line.

(nautical) The bow, or entire wedgelike forepart of a vessel, below the water line.
Origin
From Middle French entrance ("entry")
Verb
(third-person singular simple present entrances, present participle entrancing, simple past and past participle entranced)
To delight and fill with wonder.

The children were immediately entranced by all the balloons.

To put into a trance.
Origin
From en- + trance ("daze")
---