noun
Way is a space for passing or going from one place to another, or a manner of doing something.

An example of a way is the route to get from one place to another.
An example of a way is folding a shirt in half lengthwise and in half again.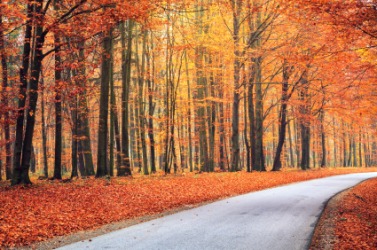 A beautiful way through the forest.
---
way definition by Webster's New World
noun
a means of passing from one place to another, as a road, highway, street or path: the Appian Way
room or space for passing; free area; an opening, as in a crowd or traffic: clear a way for the ambulance
a route or course that is or may be used to go from one place to another: often used in combination: highway, railway, one-way street
a specified route or direction: on the way to town
a path in life; course or habits of life or conduct: to fall into evil ways

a course of action; method or manner of doing something: do it this way
a means to an end; method: a way to cut costs

a usual or customary manner of living, acting, or being: the way of the world
a characteristic manner of acting or doing: to learn the ways of other people
manner or style: to have a pleasant way
distance: a long way off
direction of movement or action: go this way; look this way
respect; point; particular; feature: to be right in some ways
what one desires; wish; will: to have or get one's own way
range or scope, as of experience: a method that never came in his way
relationship as to those taking part: used in hyphenated compounds: a four-way conversation

Informal

a (specified) state or condition: to be in a bad way

Informal

a district; locality; area: out our way

Law, Now Rare

right of way (sense )

Mech.

a surface or slide on which the carriage of a lathe, etc. moves along its bed

Naut.

a ship's movement or momentum through water

Shipbuilding

a timber framework on which a ship is built and along which it slides in launching
Origin: Middle English ; from Old English weg, akin to German ; from Indo-European base an unverified form weĝh-, to go from source Classical Latin vehere, to carry, ride, Classical Greek ochos, wagon
adverb
Informal
away; far; to a considerable extent or at some distance:
way behind
Webster's New World College Dictionary Copyright © 2010 by Wiley Publishing, Inc., Cleveland, Ohio. Used by arrangement with John Wiley & Sons, Inc.
---
way definition by American Heritage Dictionary
noun
a. A road, path, or highway affording passage from one place to another.

b. An opening affording passage: This door is the only way into the attic.

a. Space to proceed: cleared the way for the parade.

b. Opportunity to advance: opened the way to peace.

A course that is or may be used in going from one place to another: tried to find the shortest way home.
Progress or travel along a certain route or in a specific direction: on his way north.
A course of conduct or action: tried to take the easy way out.
A manner or method of doing: several ways of solving this problem; had no way to reach her.
A usual or habitual manner or mode of being, living, or acting: the American way of life.
An individual or personal manner of behaving, acting, or doing: Have it your own way.
also ways (used with a sing. verb) Informal Distance: The travelers have come a long way. That village is a good ways off.

a. A specific direction: He glanced my way.

b. A participant. Often used in combination: a three-way conversation.

a. An aspect, particular, or feature: resembles his father in many ways; in no way comparable.

b. Nature or category: not much in the way of a plot.

Freedom to do as one wishes: if I had my way.
An aptitude or facility: She certainly does have a way with words.
A state or condition: He is in a bad way financially.
Vicinity: Drop in when you're out our way.
A longitudinal strip on a surface that serves to guide a moving machine part. Often used in the plural.
ways (used with a sing. or pl. verb) Nautical The structure on which a ship is built and from which it slides when launched.
adverb
Informal By a great distance or to a great degree; far: way off base; way too expensive.
Slang Very; extremely: "Can they really make a car that's way cool?" (Fortune).
Informal From this place; away: Go way.
Origin: Middle English, from Old English weg; see wegh- in Indo-European roots.
Usage Note:
Way
has long been an intensifying adverb meaning "to a great degree," as in
way over budget.
This usage is both acceptable and common but has an informal ring. • 
Way
is also used as a general intensifier, as in
way cool
and
way depressing.
This locution has expanded beyond its original range of younger speakers, but it is still regarded as slang. • In American English
ways
is often used as an equivalent of
way
in phrases such as
a long ways to go.
The usage is acceptable but is usually considered informal.
The American Heritage® Dictionary of the English Language, 4th edition Copyright © 2010 by Houghton Mifflin Harcourt Publishing Company. Published by Houghton Mifflin Harcourt Publishing Company. All rights reserved.
---
way - Phrases/Idioms
by the way
incidentally
on or beside the way
by way of
passing through; through; via
as a way, method, mode, or means of

Chiefly Brit.

in the condition or position of by way of being a fine pianist
come someone's way
to come within someone's scope or range; come to someone

Informal

to turn out successfully for someone
give way
to withdraw; yield
to break down; collapse
give way to
to step aside for; yield to
to give free expression to to give way to tears
go all the way
☆
Informal

to proceed or agree completely

Slang

to engage in sexual intercourse
go out of the way
or
go out of one's way
to inconvenience oneself; do something that one would not ordinarily do, or that requires extra or deliberate effort or trouble
in the way
in such a position or of such a nature as to obstruct, hinder, impede, or prevent
make one's way
to advance or proceed
to advance in life or succeed, as by one's own efforts
make way
to make room; clear a passage
to make progress
on the way out
becoming unfashionable, obsolescent, etc.
dying
out of the way
in a position so as not to hinder or interfere
disposed of
not on the right or usual route or course

improper; wrong; amiss
unusual; uncommon
parting of the ways
an ending of a relationship as because of a disagreement
see one's way clear
to be willing (to do something)
to find it convenient or possible
take one's way
Old Poet.
to go on a journey; travel
the way
according to the way that; as with things the way they are
under way
moving; advancing; making progress

Naut.
on the way
On the route of a journey:
met him on the way to town; ran into them on the way.
out of the way
In such a position as not to obstruct, hinder, or interfere.
Taken care of; disposed of:

some details to get out of the way first.

In a remote location.
Of an unusual character; remarkable.
Improper; amiss:

said nothing out of the way.
(one's)
on
/the
way
In the process of coming, going, or traveling:
She is on her way out the door. Winter is on the way.
all the way
From beginning to end; completely:
drove all the way from Detroit to Pittsburgh.
by the way
Incidentally:
By the way, you forgot to cash that check.
by way of
Through; via:

flew to the Far East by way of the polar route.

As a means of:

made no comment by way of apology.
(one's)
go out of
/the
way
To inconvenience oneself in doing something beyond what is required.
in a way
To a certain extent; with reservations:

I like the new styles, in a way.

From one point of view:

In a way, you're right.
in the way
In a position to obstruct, hinder, or interfere.
no way
Informal
Certainly not:
Did you like that movie?-No way! It was boring.