direction

di·rec·tion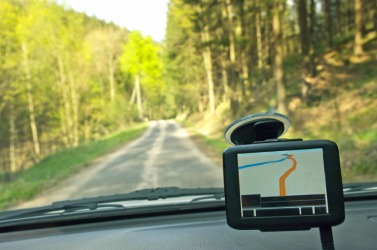 This device will give you directions.
noun
Direction is defined as the path that something takes, the path that must be taken to reach a specific place, the way in which something is starting to develop or the way you are facing.

An example of direction is when you go right instead of left.
An example of direction is knowledge of where you are going and how to get where you want to end up.
An example of direction is when a plan starts to go wrong.
An example of direction is when you climb to the top of a mountain and can see 360 degrees around you.
---
direction
the act of directing; management; supervision
[usually pl.] instructions for doing, operating, using, preparing, etc.
an authoritative order or command
the point toward which something faces or the line along which something moves or lies: "north," "up," "forward," and "left" are directions
an aspect, line of development, way, trend, etc.: research in new directions

Theater

the director's plan for achieving certain effects, as of acting, lighting, etc.
the instructions for this to the actors and others

Music

a word, phrase, or sign showing how a note, passage, etc. is to be played
the work or art of directing a choir, band, etc.
Origin of direction
Middle English
direccioun
from Classical Latin
directio
---
direction
noun
The management, supervision, or guidance of a group or operation: The manager's direction of the sales campaign has been highly effective.
The art or action of directing a musical, theatrical, or cinematic production.

a. An authoritative order or command: The supervisor shouted directions to employees in the warehouse.

b. Music A word or phrase in a score indicating how a passage is to be played or sung.

c. directions Instructions in how to do something or reach a destination: read the directions before assembling the grill; asked for directions in how to get to the lake.

a. The course along which a person or thing is moving or must move to reach a destination: The boat left the bay and sailed in a northerly direction.

b. The point toward which a person or thing faces or is oriented: The twins stood back to back, looking in opposite directions.

A course or line of development; a tendency toward a particular end or goal: charting a new direction for the company.
Origin of direction
Middle English
arrangement
from
Latin
dīrēctiō
dīrēctiōn-
from
dīrēctus
past participle of
dīrigere
to direct
; see
direct
.
Related Forms:
di·rec′tion·less

adjective
---
direction

directions
under the direction of
Origin
From Old French, from Latin dīrēctiō.
---