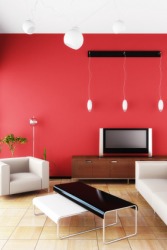 This red wall is the focal point of this room.
noun
The definition of a focal point is something or someone that captures the bulk of the attention, either intentionally or by chance.

An example of a focal point is a bright red wall in your living room designed to draw the eye to it.
---
focal point
the point at which light, sound, etc. is focused
any center of activity, attention, etc.
---
focal point
---
focal-point

---