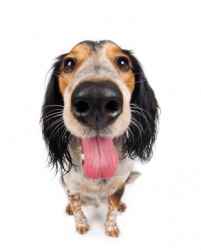 This dogs nose is a very prominent feature.
noun
The definition of a feature is a part of the face, a quality, a special attraction, article or a major film showing in the theatre.

An example of feature is a nose.
An example of feature is freckles.
An example of feature is a guest speaker at an event.
An example of feature is a cover story in a magazine.
An example of feature is a new movie coming out.
verb
Feature is defined as to give or bring special attention to someone or something.

An example of feature is a gallery showcasing the work of a particular artist.
---
feature
Archaic

the make, shape, form, or appearance of a person or thing

Obs.

attractive appearance; physical beauty

[pl.] the form or look of the face; facial appearance
any of the parts of the face, as the eyes, nose, mouth, etc.

a distinct or outstanding part, quality, or characteristic of something
a prominently displayed or publicized attraction, as at an entertainment or sale
a special story, article, etc. in a newspaper or magazine, often prominently displayed
a film, usually fictional, running 40 minutes or longer, esp. as the main presentation in a theater
Origin of feature
Middle English
feture
from Old French
faiture
from Classical Latin
factura
, a making, formation from past participle of
facere
, to make, do
transitive verb
-·tured

,

-·tur·ing
to give prominence to; make a feature of
to sketch or show the features of
to be a feature of

Slang

to conceive of; imagine

Dial.

to look like; favor
---
feature
noun
a. Any of the distinct parts of the face, as the eyes, nose, or mouth.

b. often features The overall appearance of the face or its parts.

A prominent or distinctive part, quality, or characteristic: a feature of one's personality; a feature of the landscape.
Linguistics

a. A property of linguistic units or forms: Nasality is a phonological feature.

b. In generative linguistics, any of various abstract entities that specify or combine to specify phonological, morphological, semantic, and syntactic properties of linguistic forms and that act as the targets of linguistic rules and operations.

a. The main film presentation at a theater.

b. A long, narrative movie, typically lasting more than one hour.

A special attraction at an entertainment.
A prominent or special article, story, or department in a newspaper or periodical.
An item advertised or offered as particularly attractive or as an inducement: a washing machine with many features.
Archaic

a. Outward appearance; form or shape.

b. Physical beauty.
transitive verb
fea·tured, fea·tur·ing, fea·tures
To give special attention to; display, publicize, or make prominent.
To have or include as a prominent part or characteristic: The play featured two well-known actors.
To depict or outline the features of.
Informal To picture mentally; imagine: Can you feature her in that hat?
Origin of feature
Middle English
feture
from
Old French
faiture
from
Latin
factūra
a working or making
from
factus
past participle of
facere
to make, do
; see
dhē-
in Indo-European roots.
---
feature

Noun
(plural features)
(media) A long, prominent, article or item in the media, or the department that creates them; frequently used technically to distinguish content from news.
Any of the physical constituents of the face (eyes, nose, etc.).
(computing) A beneficial capability of a piece of software.
The cast or structure of anything, or of any part of a thing, as of a landscape, a picture, a treaty, or an essay; any marked peculiarity or characteristic; as, one of the features of the landscape.
(archaeology) Something discerned from physical evidence that helps define, identify, characterize, and interpret an archeological site.
Verb
(third-person singular simple present features, present participle featuring, simple past and past participle featured)
To ascribe the greatest importance to something within a certain context.
to appear; to make an appearance.
---