fantasize

fan·ta·size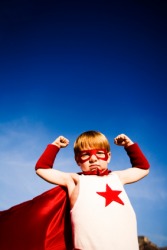 A child fantasizes about being a superhero.
verb
To fantasize is defined as to imagine or daydream.

When you think about the nice house you'd buy if you won the lottery, this is an example of when you fantasize.
---
fantasize
transitive verb
-·sized·

,

-·siz·ing
to create or imagine in a fantasy; have daydreams about
Origin of fantasize
fantas(y) + -ize
---
fantasize
verb
fan·ta·sized, fan·ta·siz·ing, fan·ta·siz·es
verb
transitive
To portray in the mind; imagine.
verb
intransitive
To indulge in fantasies.
---
fantasize

Verb
(third-person singular simple present fantasizes, present participle fantasizing, simple past and past participle fantasized)
(intransitive, usually with about) To indulge in fantasy; to imagine things only possible in fantasy.

I fantasized about my ideal date.
---