verb
Invent is defined as to create something for the first time, or to think up.

An example of invent is to make a brand new device for making a perfect cup of coffee.
An example of invent is to create a story about why you didn't do your homework.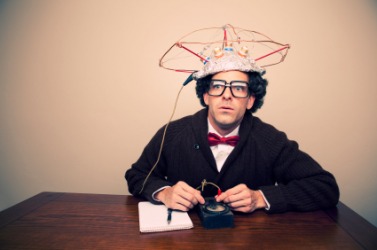 What is this man trying to invent?
---
invent definition by Webster's New World
transitive verb
to think up; devise or fabricate in the mind: to invent excuses
to think out or produce (a new device, process, etc.); originate, as by experiment; devise for the first time

Archaic

to find; discover
Origin: Middle English inventen ; from Classical Latin inventus, past participle of invenire, to come upon, meet with, discover ; from in-, in, on plush venire, to come
Webster's New World College Dictionary Copyright © 2010 by Wiley Publishing, Inc., Cleveland, Ohio. Used by arrangement with John Wiley & Sons, Inc.
---
invent definition by American Heritage Dictionary
transitive verb
in·vent·ed
,
in·vent·ing
,
in·vents
To produce or contrive (something previously unknown) by the use of ingenuity or imagination.
To make up; fabricate: invent a likely excuse.
Origin: Latin invenīre, invent-, to find : in-, on, upon; see in-2 + venīre, to come; see gwā- in Indo-European roots.
Related Forms: