simulate

sim·u·late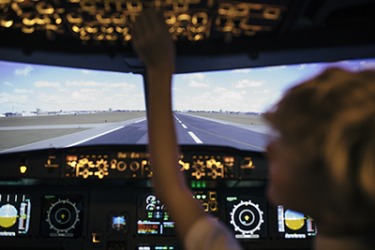 The aviation student trains in the testing vehicle that simulates a real flight.
verb
Simulate is defined as to imitate or take on the look of something.

An example of to simulate is for a car video game to act just like driving a real car.
---
simulate
transitive verb
-·lat·ed

,

-·lat·ing
to give a false indication or appearance of; pretend; feign: to simulate an interest
to have or take on the external appearance of; look or act like: an insect simulating a twig
to achieve or imitate the characteristics or effect of: to simulate the feel of fine leather
to use computer simulation to represent (a system, physical process, etc.)
Origin of simulate
from Classical Latin
simulatus
, past participle of
simulare
, to feign from
simul
, together with, at the same time: see same
---
simulate
transitive verb
sim·u·lat·ed, sim·u·lat·ing, sim·u·lates
a.

To have or take on the appearance, sound, or character of; imitate:

music meant to simulate a snowstorm.

See Synonyms at

imitate

.

b. To make in imitation of or as a substitute for: simulate leather.

To make a pretense of; feign: simulate interest.
To create a representation or model of (a physical system or particular situation, for example).
Origin of simulate
Latin
simulāre
simulāt-
from
similis
like
; see
similar
.
Related Forms:
---
simulate

Verb
(third-person singular simple present simulates, present participle simulating, simple past and past participle simulated)
Adjective
(comparative more simulate, superlative most simulate)
(obsolete) Feigned; pretended.
---