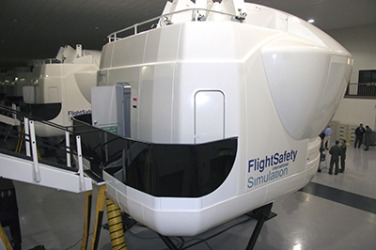 The TH-1H Weapons System Trainer is used by the military to replicate flight simulations for helicopters.
noun
The definition of a simulation is a model or representative example of something.

When you create a computer program that is intended to model flying a plane, this is an example of a simulation.
---
simulation
the act of simulating; pretense; feigning

a simulated resemblance
an imitation or counterfeit

the use of a computer to calculate, by means of extrapolation, the effect of a given physical process
the duplicating or reproducing of certain characteristics or conditions, as of a system or physical process, by the use of a model or representation, for study, training, etc.
Origin of simulation
Middle English
simulacion
from Middle French from Classical Latin
simulatio
---
simulation
noun
The act or process of simulating.
An imitation; a sham.
Assumption of a false appearance.

a. Imitation or representation, as of a potential situation or in experimental testing.

b. Representation of the operation or features of one process or system through the use of another: computer simulation of an in-flight emergency.
---
simulation

Noun
(plural simulations)
Something which simulates a system or environment in order to predict actual behaviour.

This exercise is a simulation of actual battle conditions.
The most reliable simulation predicts that the hurricane will turn north.

The process of simulating.

Despite extensive simulation in the design phase, the aircraft failed to behave as expected.

Assuming an appearance which is feigned, or not true.
(soccer) The act of falling over in order to be awarded a foul, when a foul hasn't been committed.
Origin
First attested in 1340. From Middle English simulacion/simulacioun, from Old French simulation/simulacion, from Latin simulātiōnem, from simulō ("imitate").
---
simulation - Computer Definition
---