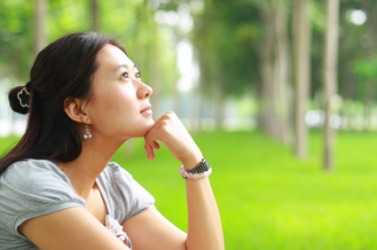 A young woman daydreaming.
noun
The definition of a daydream is a fantasy or series of pleasant thoughts you have when awake that helps you to escape from reality.

If you hate your job and sit in a boring meeting fantasizing about winning the lottery and walking out, this is an example of a daydream.
verb
Daydream is defined as to imagine or fantasize.

When you imagine winning the lottery and quitting your job during a boring meeting, this is an example of when you daydream.
---
daydream
a pleasant, dreamlike thinking or wishing; reverie
a pleasing but visionary notion or scheme
---
daydream
noun
A dreamlike musing or fantasy while awake, especially of the fulfillment of wishes or hopes.
intransitive verb
day·dreamed,
or
day·dreamt
day·dream·ing, day·dreams
To have dreamlike musings or fantasies while awake.
Related Forms:
---
daydream

Noun
(plural daydreams)
A spontaneous and fanciful series of thoughts while awake not connected to immediate reality.
Verb
(third-person singular simple present daydreams, present participle daydreaming, simple past and past participle daydreamt or daydreamed)
To have such a series of thoughts; to woolgather.

Stop daydreaming and get back to work!
---