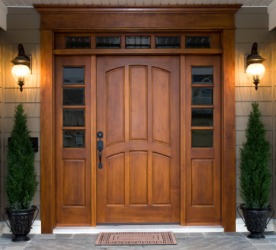 A beautiful wood door.
noun
The definition of a door is a movable structure used for opening and closing an entrance or for giving access to something.

An example of a door is what someone would open to get into their house.
---
door
a movable structure for opening or closing an entrance, as to a building or room, or giving access to a closet, cupboard, etc.: most doors turn on hinges, slide in grooves, or revolve on an axis: term often used fig.
the room or building to which a particular door belongs: two doors down the hall
any opening with a door in it; doorway
doorway (sense )
Origin of door
Middle English
dure, dor
from Old English
duru
feminine (orig., pair of doors),
dor
neuter , akin to German
tür
, door,
tor
, gate from Indo-European base an unverified form
dhwer-, an unverified form dhwor-
, door from source Classical Latin
fores
(pl. of
foris
), two-leaved door, Classical Greek
thyra
, door (in plural , double door)
lie at someone's door
to be imputable or chargeable to someone
out of doors
outside a house, building, etc.; outdoors
show someone the door
to ask or command someone to leave
---
door
noun
a. A movable structure used to close off an entrance, typically consisting of a panel that swings on hinges or that slides or rotates.

b. A similar part on a piece of furniture or a vehicle.

A doorway.
The room or building to which a door belongs: They live three doors down the hall.
A means of approach or access: looking for the door to success.
transitive verb
doored, door·ing, doors
Slang To strike (a passing bicyclist, for example) by suddenly opening a vehicular door.
To serve as a doorman or doorwoman of (a nightclub, for example).
Origin of door
Middle English
dor
from
Old English
duru, dor
; see
dhwer-
in Indo-European roots.
Related Forms:
door
A. rails
B. stiles
C. muntins
---
door

Noun
(plural doors)
A portal of entry into a building, room or vehicle, consisting of a rigid plane movable on a hinge. Doors are frequently made of wood or metal. May have a handle to help open and close, a latch to hold the door closed, and a lock that ensures the door cannot be opened without the key.

I knocked on the vice president's door

Any flap, etc. that opens like a door.

the 24 doors in an Advent calendar

A non-physical entry into the next world, a particular feeling, a company, etc.

Keep a door on your anger.
Verb
(third-person singular simple present doors, present participle dooring, simple past and past participle doored)
(cycling) To cause a collision by opening the door of a vehicle in front of an oncoming cyclist or pedestrian.
Origin
From Middle English dore, dor, from Old English duru ("door"), dor ("gate"), from Proto-Germanic *durz, from Proto-Indo-European *dʰwer-, *dʰwor- ("doorway, door, gate"). Cognates include West Frisian doar, Dutch deur, German Tür ("door"), Tor ("gate"), Danish dør, Icelandic dyr, Latin foris, Modern Greek θύρα (thýra), Albanian derë pl. dyer, Kurdish derge (der), derî, Persian در (dar), Russian дверь (dver'), Hindustani द्वार (dvār) / دوار (dvār), Armenian դուռ (duṙ), Irish doras, Lithuanian durys.
---
door - Computer Definition
(1) See drive door.
(2) Undocumented code in a program that lets someone gain illegal access. See back door.
(3) A programming interface that lets an online user run an application program in a bulletin board system (BBS).
---