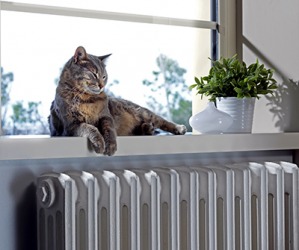 Iggy likes to nap on the sill above the radiator in the winter.
noun
The definition of a sill is a horizontal piece of a frame, generally made out of wood, for a window or door.

An example of a sill is where a cat may sit looking out the window.
---
sill
a heavy, horizontal timber or line of masonry supporting a house wall, etc.
a horizontal piece forming the bottom frame of the opening into which a window or door is set

Geol.

a flattened piece of igneous rock forced between beds of stratified rocks
Origin of sill
Middle English
sille
from Old English
syll
, akin to Danish
sville
, German
schwelle
from Indo-European base an unverified form
sel-
, an unverified form
swel-
, beam, plank from source Classical Greek
selma
, beam
---
sill
noun
a. A horizontal member that bears the upright portion of a frame.

b. A windowsill.

Geology A sheet of igneous rock formed by the intrusion of magma between existing strata.
Origin of sill
Middle English
sille
from
Old English
syll
threshold
---
sill

---