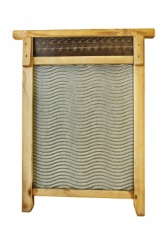 An old washboard.
---
washboard
noun
☆

a board or frame with a ridged surface of metal, glass, etc., used for scrubbing dirt out of clothes or as a percussion instrument in a jug band
the worn surface of a paved road resembling this

baseboard

Naut.

a thin, broad plank fastened along the gunwale of a boat or on the sill of a lower deck port to keep out the sea and spray
---
washboard
noun
a. A board having a corrugated surface on which clothes can be rubbed in the process of laundering.

b. Music A similar board used as a percussion instrument.

A board fastened to a wall at the floor; a baseboard.
Nautical A thin plank fastened to the side of a boat or to the sill of a port to keep out the sea and the spray.
adjective
Having rows of ridges or indentations similar to those of a washboard: washboard abs; a washboard dirt road.
---
washboard
Noun
(plural washboards)
a board with a corrugated surface against which laundry may be rubbed
(music) such a board used as a simple percussion instrument
(nautical) a board fastened along a ship's gunwale to prevent splashing; a splashboard
---