adjective
The definition of beginning is something that is in the early stages or the first portion of something.

An example of a beginning actor is one who lands his first role.
An example of beginning sewing is a class for those who are new to sewing.
noun
Beginning means the moment or place when something started.

1. An example of the beginning of a vacation is when you get on the plane to go away.2. An example of beginning is January, which is the first month of the year.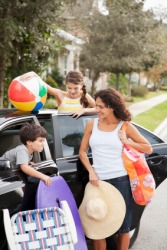 The beginning of a family vacation.
---
beginning definition by Webster's New World
noun
a starting or commencing
the time or place of starting; birth; origin; source: English democracy had its beginning in the Magna Carta
the first part: the beginning of a book
an early stage or example: the beginnings of scientific agriculture
Webster's New World College Dictionary Copyright © 2010 by Wiley Publishing, Inc., Cleveland, Ohio. Used by arrangement with John Wiley & Sons, Inc.
---
beginning definition by American Heritage Dictionary
noun
The act or process of bringing or being brought into being; a start.
The time when something begins or is begun: the beginning of the war.
The place where something begins or is begun: at the beginning of the road.
A source; an origin: What was the beginning of the dispute?
The first part: The front matter is at the beginning of the book.
An early or rudimentary phase. Often used in the plural: the beginnings of human life on this planet.
beginning
Variant of begin
intransitive verb
began, begun, beginning
to start doing, acting, going, etc.; get under way
to come into being; arise
to have a first part or element: the Bible begins with Genesis
to be or do in the slightest degree: used with an infinitive: they don't begin to compare
Origin: Middle English biginnen ; from Old English beginnan; akin to German beginnen, Gothic duginnan
transitive verb
to cause to start; set about; commence
to cause to come into being; originate
to be the first part or element of