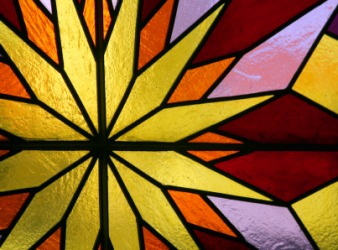 Leading is the black borders around each piece of stained glass.
adjective
The definition of leading is a person or thing in the first, major or primary position or role.

An example of leading is a woman playing Evita Peron in a Broadway production of Evita; a leading role.
An example of leading is more women dying from heart disease than anything else in the world; a leading cause of death.
noun
Leading is defined as a lead covering or border, or the spacing between lines of print.

An example of a leading is the lead glaze on a crystal glass.
An example of leading is the border around the panes of glass in a stained glass window.
An example of leading is a 15 point line spacing, which is 12 point type with a 3 point tall empty space between the lines.
---
leading
a covering or being covered with lead
strips or sheets of lead, collectively

Printing

strips of lead (noun)
the space between lines of type
the action of one that leads; guidance; direction; leadership
that leads; guiding
principal; chief
of or playing the lead in a play, film, etc.
---
leading
adjective
Having a position in the lead; foremost: the leading runner in the race.
Chief; principal: the leading cause of high inflation. See Synonyms at chief.
Of or performing a principal role in a film, play, show, or other scripted production: a leading role.
Formulated so as to elicit a desired response: a leading question.
Related Forms:
noun
A border or rim of lead, as around a windowpane.
Printing The spacing between lines, usually measured in points.
---
leading

Verb
Present participle of lead.
Adjective
(comparative more leading, superlative most leading)
Providing guidance or direction.

Avoiding leading questions if you really want the truth.

Ranking first.

He is a leading supplier of plumbing supplies in the county.

Occurring in advance; preceding.

The stock market can be a leading economic indicator.
Origin
From Old English lÇ£dan, probably a causative form of liþan ("travel").
Noun
(uncountable)
(typography) Vertical space added between lines; line spacing
Origin
From lead (chemical element).
---
leading - Computer Definition
Pronounced "ledding." In typography, the vertical spacing between lines of type (between baselines). The name comes from the early hot-metal days of typesetting when the space was achieved with thin bars of lead. Leading is measured in points and includes the point size of the typeface and the actual space between the lines. Thus, 15 points of leading using 12 point type really means three points of space in between lines. See typeface.
---