result

re·sult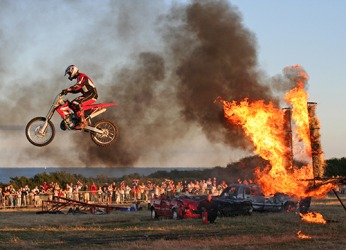 The motorcyclist received mild burns as a result of improperly planning for the stunt.
noun
The definition of a result is how something ended or the outcome of some action.

An example of result is a house that smells of fresh baked bread after baking bread.
An example of result is the answer received in a math calculation.
verb
Result is defined as to happen or end in a certain way as a consequence of something else.

An example of result is a motorcycle stunt ending with the driver being injured.
---
result
to happen or issue as a consequence or effect: often with from: floods resulting from heavy rains
to end as a consequence (in something): heavy rains resulting in floods
Origin of result
Middle English
resulten
from Medieval Latin
resultare
from L, to spring back, rebound, frequentative of
resilire,
to leap back: see resile
anything that comes about as a consequence or outcome of some action, process, etc.
[pl.] the consequence or consequences desired

the number, quantity, etc. obtained by mathematical calculation; answer to a problem
---
result
intransitive verb
re·sult·ed, re·sult·ing, re·sults
To happen as a consequence: damage that resulted from the storm; charges that resulted from the investigation. See Synonyms at follow.
To end in a particular way: Their profligate lifestyle resulted in bankruptcy.
noun
a.

Something that follows naturally from a particular action, operation, or course; a consequence or outcome. See Synonyms at

effect

.

b. results Favorable or desired outcomes: a new approach that got results.

Mathematics The quantity or expression obtained by calculation.
Origin of result
Middle English
resulten
from
Medieval Latin
resultāre
from
Latin
to leap back
frequentative of
resilīre
re-
re-
salīre
to leap
; see
sel-
in Indo-European roots.
Related Forms:
---
result

---