reversion

re·ver·sion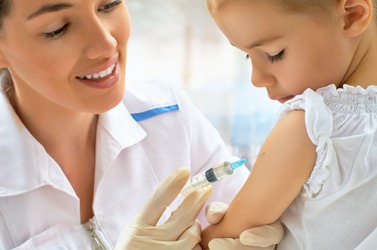 There could be a reversion of childhood diseases if parents shun getting the standard vaccinations for their children.
noun
The definition of a reversion is a turn around, reversal or return to a prior condition.

An example of a reversion is a couple getting married again after being divorced.
---
reversion
a turning or being turned the opposite way; reversal
a reverting, or returning, as to a former state, custom, or belief

Biol.

a return to a former or primitive type; atavism
the return, or reappearance, of characteristics present in early ancestral generations but not in those that have intervened
an individual or organism with such characteristics

Law

the right of succession, future possession, or enjoyment
the return of an estate to the grantor or the grantor's heirs by operation of law after the period of a grant is over
an estate so returning
Origin of reversion
Middle English from Middle French from Classical Latin
reversio
from
reversus:
see reverse
---
reversion
noun
A return to a former condition, belief, or interest.
A turning away or in the opposite direction; a reversal.
Genetics A return to the normal phenotype, usually by a second mutation.
Law

a. The return of an estate to the grantor or to the grantor's heirs or successor after the grant has expired.

b. The estate thus returned.

c. The right to succeed to such an estate.
---
reversion

Noun
(countable and uncountable, plural reversions)
The action of reverting something.
The action of turning something the reverse way.
(law) An estate which has been returned in this manner.
(law) The right of succeeding to an estate, or to another possession.
The right of succeeding to an office after the death or retirement of the holder.
The return of a genetic characteristic after a period of suppression.
A sum payable on a person's death.
Origin
From Old French reversion (modern réversion), from Latin reversio, from revertō.
---
reversion - Legal Definition
n
A future interest in land created by operation of law by a conveyance of property for a specified period of time without transfer of title to said land. Upon expiration of the period of the lease, the land reverts to the lease grantor or his or her heirs. Additionally, reversion may refer to the part of an estate that the grantor retains upon conveyance of the rest of it. See also
remainder
and
reservation
.
---