consequence

con·se·quence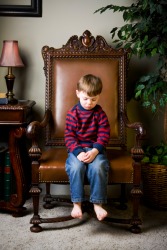 A child being punished as a consequence of his actions.
noun
The definition of consequence is a natural result that flows from something else, or importance in ranking.

If you do something wrong and get grounded, this is an example of aconsequence.
If there is a matter of great importance that you have to address, this is an example of a matter of greatconsequence.
---
consequence
a result of an action, process, etc.; outcome or effect, often, specif., an adverse one
a logical result or conclusion; inference
the relation of effect to cause
importance as a cause or influence: a matter of slight consequence
importance in rank; influence: a person of consequence
Origin of consequence
Old French from Classical Latin
consequentia
from
consequens,
present participle of
consequi,
to follow after from
com-,
with +
sequi,
to follow: see sequent
take the consequences
to accept the adverse results of one's actions
---
consequence
noun
a.

Something that logically or naturally follows from an action or condition. See Synonyms at

effect

.

b. A punishment or negative repercussion: "Sometimes a cousin's first child was born six months after the wedding; aside from a moment's tsk-tsk, there were no consequences" ( Donald Hall )

A logical conclusion or inference.
Importance in rank or position: scientists of consequence.
Significance; importance: an issue of consequence. See Synonyms at importance.
---
consequence

Noun
(plural consequences)
That which follows something on which it depends; that which is produced by a cause.
A result of actions, especially if such a result is unwanted or unpleasant.

I'm warning you. If you don't get me the report on time, there will be consequences.

A proposition collected from the agreement of other previous propositions; any conclusion which results from reason or argument; inference.
Chain of causes and effects; consecution.
Importance with respect to what comes after.
The power to influence or produce an effect.
(especially when preceded by "of") Importance, value, or influence.
Usage notes
Adjectives often applied to "consequence": social, legal, environmental, political, economic, personal, cultural, moral, unintended, undesirable, likely, probable, necessary, logical, natural, important, significant, bad, disastrous, devastating, fatal, catastrophic, harmful.
Verb
(third-person singular simple present consequences, present participle consequencing, simple past and past participle consequenced)
To threaten or punish (a child, etc.) with specific consequences for misbehaviour.
See also:
conséquence
---