noun
Rank is someone's status or position, especially in society or in the military.

A general is an example of a very high military rank.
A person's class status is an example of his rank in society.
verb
To rank is to put things in some type of order, based on a set criteria.

When sports players are put in order based on how many home runs they hit, this is an example of a time when sports players are ranked.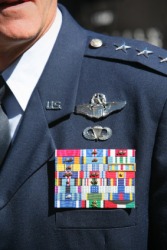 A military officer of high rank.
---
rank definition by Webster's New World
noun
a row, line, or series
an orderly arrangement
a social division or class; stratum of society: people from all ranks of life
a high position in society; high degree; eminence: a person of rank
an official grade or position: the rank of captain
a relative position, usually in a scale classifying persons or things; grade; degree: a poet of the first rank
any of the rows of squares on a chessboard extending from side to side, perpendicular to the files

Mil.

a row of soldiers, vehicles, etc. placed side by side, or abreast of one another
the body of soldiers of an army, as distinguished from the officers [to rise from the ranks]: often used metaphorically to refer to the ordinary members of any group, as opposed to its leaders

Music

stop ()
Origin: Middle French renc ; from Old French ranc, renc: see range
transitive verb
to place in a rank or ranks
to assign a certain rank, or position, to
☆ to have a higher rank than; outrank
intransitive verb
to hold a certain rank, or position: to rank third on a list

Archaic

to form a rank or move in ranks
adjective
growing vigorously and coarsely; overly luxuriant: rank grass
producing or covered with a luxuriant crop; extremely fertile
strong and offensive in smell or taste; rancid
in bad taste; coarse
complete; utter: rank deceit

Obsolete

in sexual heat
Origin: Middle English ranke ; from Old English ranc, strong, proud, akin to Middle Low German rank, slender, erect, long and thin ; from Indo-European base an unverified form reĝ-, put in order, stretch out from source right
---
rank definition by American Heritage Dictionary
noun
a. A relative position in a society.

b. An official position or grade: the rank of sergeant.

c. A relative position or degree of value in a graded group.

d. High or eminent station or position: persons of rank.

A row, line, series, or range.

a. A line of soldiers, vehicles, or equipment standing side by side in close order.

b. ranks The armed forces.

c. ranks Personnel, especially enlisted military personnel.

ranks A body of people classed together; numbers: joined the ranks of the unemployed.
Games Any of the rows of squares running crosswise to the files on a playing board in chess or checkers.
verb
ranked
,
rank·ing
,
ranks
verb
, transitive
To place in a row or rows.
To give a particular order or position to; classify.
To outrank or take precedence over.
verb
, intransitive
To hold a particular rank: ranked first in the class.
To form or stand in a row or rows.
Slang

a. To complain.

b. To engage in carping criticism. Often used with on: Stop ranking on me all the time.
Origin: Middle English, line, row, from Old French ranc, renc, of Germanic origin; see sker-2 in Indo-European roots.
adjective
rank·er
,
rank·est
Growing profusely or with excessive vigor: rank vegetation in the jungle.
Yielding a profuse, often excessive crop; highly fertile: rank earth.
Strong and offensive in odor or flavor.
Conspicuously offensive: rank treachery. See Synonyms at flagrant.
Absolute; complete: a rank amateur; a rank stranger.
Origin: Middle English ranc, from Old English, strong, overbearing; see reg- in Indo-European roots.
Related Forms:
The American Heritage® Dictionary of the English Language, 4th edition Copyright © 2010 by Houghton Mifflin Harcourt Publishing Company. Published by Houghton Mifflin Harcourt Publishing Company. All rights reserved.
---
rank - Phrases/Idioms
pull (one's) rank on
☆
Slang
to take advantage of one's military rank in enforcing commands or one's high position or seniority in making demands on (a subordinate)
pull rank
To use one's superior rank to gain an advantage.