rank

rank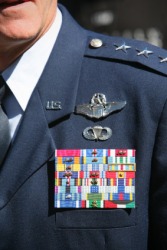 A military officer of high rank.
noun
Rank is someone's status or position, especially in society or in the military.

A general is an example of a very high military rank.
A person's class status is an example of his rank in society.
verb
To rank is to put things in some type of order, based on a set criteria.

When sports players are put in order based on how many home runs they hit, this is an example of a time when sports players are ranked.
---
rank
a row, line, or series
an orderly arrangement
a social division or class; stratum of society: people from all ranks of life
a high position in society; high degree; eminence: a person of rank
an official grade or position: the rank of captain
a relative position, usually in a scale classifying persons or things; grade; degree: a poet of the first rank
any of the rows of squares on a chessboard extending from side to side, perpendicular to the files

Mil.

a row of soldiers, vehicles, etc. placed side by side, or abreast of one another
[pl.] the body of soldiers of an army, as distinguished from the officers [to rise from the ranks]: often used metaphorically to refer to the ordinary members of any group, as opposed to its leaders

Music

stop (noun)
Origin of rank
Middle French
renc
from Old French
ranc, renc:
see range
to place in a rank or ranks
to assign a certain rank, or position, to
to have a higher rank than; outrank
to hold a certain rank, or position: to rank third on a list

Archaic

to form a rank or move in ranks
close ranks
to bring troops, etc. into close formation, as for defensive purposes: often used fig.
pull (one's) rank on
Slang
to take advantage of one's military rank in enforcing commands or one's high position or seniority in making demands on (a subordinate)
growing vigorously and coarsely; overly luxuriant: rank grass
producing or covered with a luxuriant crop; extremely fertile
strong and offensive in smell or taste; rancid
in bad taste; coarse
complete; utter: rank deceit

Obs.

in sexual heat
Origin of rank
Middle English
ranke
from Old English
ranc,
strong, proud, akin to Middle Low German
rank
, slender, erect, long and thin from Indo-European base an unverified form
re?-,
put in order, stretch out from source right
---
rank
noun
a. A relative position in a society.

b. An official position or grade: the rank of sergeant.

c. A relative position or degree of value in a graded group.

d. High or eminent station or position: persons of rank.

A row, line, series, or range.

a. A line of soldiers, vehicles, or equipment standing side by side in close order.

b. ranks The armed forces.

c. ranks Personnel, especially enlisted military personnel.

ranks A body of people classed together; numbers: joined the ranks of the unemployed.
Games Any of the rows of squares running crosswise to the files on a playing board in chess or checkers.
verb
ranked, rank·ing, ranks
verb
transitive
To place in a row or rows.
To give a particular order or position to; classify.
To outrank or take precedence over.
verb
intransitive
To hold a particular rank: ranked first in the class.
To form or stand in a row or rows.
Slang

a. To complain.

b. To engage in carping criticism. Often used with on: Stop ranking on me all the time.
Origin of rank
Middle English
line, row
from
Old French
ranc, renc
of Germanic origin
; see
sker-
2
in Indo-European roots.
adjective
rank·er, rank·est
Growing profusely or with excessive vigor: rank vegetation.
Yielding a profuse, often excessive crop; highly fertile: rank earth.
Strong and offensive in odor or flavor: rank gym clothes.
Absolute; complete: a rank amateur; rank treachery. See Synonyms at flagrant.
Origin of rank
Middle English
ranc
from
Old English
strong, overbearing
; see
reg-
in Indo-European roots.
Related Forms:
---
rank

Adjective
(comparative ranker or more rank, superlative rankest or most rank)
Strong of its kind or in character; unmitigated; virulent; thorough; utter.

rank treason; rank nonsense

Strong in growth; growing with vigour or rapidity, hence, coarse or gross.

rank grass; rank weeds

Suffering from overgrowth or hypertrophy; plethoric.
Having a very strong and bad taste or odor.

Your gym clothes are rank, bro – when d'you last wash 'em?

Complete, used as an intensifier (usually negative, referring to incompetence).

I am a rank amateur as a wordsmith.

(informal) Gross, disgusting.
Adverb
(comparative more rank, superlative most rank)
Fairfax

That rides so rank and bends his lance so fell.
Origin
From Middle English rank ("strong, proud"), from Old English ranc ("proud, haughty, arrogant, insolent, forward, overbearing, showy, ostentatious, splendid, bold, valiant, noble, brave, strong, full-grown, mature"), from Proto-Germanic *rankaz ("straight"), from Proto-Indo-European *h₃reǵ- ("straight, direct"). Cognate with Dutch rank ("slender, slim"), Low German rank ("slender, projecting, lank"), Danish rank ("straight, erect, slender"), Swedish rank ("slender, shaky, wonky"), Icelandic rakkr ("straight, slender, bold, valiant").
Noun
(plural ranks)
A row of people or things organized in a grid pattern, often soldiers [the corresponding term for the perpendicular columns in such a pattern is "file"].

The front rank kneeled to reload while the second rank fired over their heads.

(chess) one of the eight horizontal lines of squares on a chessboard [the corresponding term for a vertical line is "file"].

(music) In a pipe organ, a set of pipes of a certain quality for which each pipe corresponds to one key or pedal.
One's position in a list sorted by a shared property such as physical location, population, or quality

Based on your test scores, you have a rank of 23.
The fancy hotel was of the first rank.

The level of one's position in a class-based society
a level in an organization such as the military

Private First Class (PFC) is the lowest rank in the Marines.
He rose up through the ranks of the company from mailroom clerk to CEO.

(taxonomy) a level in a scientific taxonomy system

Phylum is the taxonomic rank below kingdom and above class.

(linear algebra) Maximal number of linearly independent columns (rows) of a matrix.
Verb
(third-person singular simple present ranks, present participle ranking, simple past and past participle ranked)
To have a ranking.

Their defense ranked third in the league.

(US) To take rank of; to outrank.
Origin
Middle English rank ("line, row"), from Old French reng, rang, ranc ("line, row, rank") (Modern French rang), from Frankish hring ("ring"), from Proto-Germanic *hringaz ("something bent or curved"), which is of uncertain origin.
Akin to Old High German (h)ring, Old Frisian hring, Old English hring, hrincg ("ring") (Modern English ring), Old Norse hringr ("ring, circle, queue, sword; ship"). More at ring.
---