belong

be·long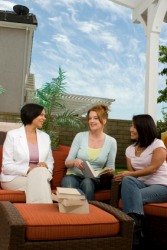 These women belong to a book club.
verb
To belong is defined as being a member, to fit in or be suitable for.

An example of to belong is to be a member of a book club.
---
belong
to have a proper or suitable place: the chair belongs in the corner; she belongs in the movies
to be part of; be related or connected (to)
to be a member: with to
to be owned: with to

Slang

to be the owner: with to: who belongs to this toothbrush?
Origin of belong
Middle English
bilangen
from
be-
, intensive +
longen,
to be suitable from Old English
langian
, to belong
---
belong
intransitive verb
be·longed, be·long·ing, be·longs
a. To be proper, appropriate, or suitable: A napkin belongs at every place setting.

b. To be in an appropriate situation or environment: That plant belongs outdoors.

a. To be a member of a group, such as a club.

b. To fit into a group naturally: No matter what I did, I just didn't belong.

To be owned by someone. Often used with to: "The earth belongs to the living" ( Thomas Jefferson )
To be a part of something else: These blades belong to the food processor.
Origin of belong
Middle English
bilongen
probably
bi-
be-
longen
to belong
(
probably from
long
dependent
) (
from
Old English
gelang
along, depending
; see
del-
1
in Indo-European roots.)
---
belong

---