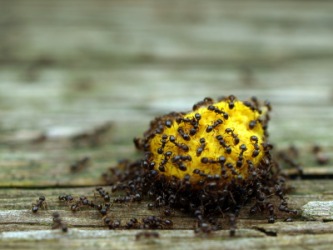 Rampant ants.
adjective
The definition of rampant is something that exists in large quantities or that grows and expands unrestrained.

An example of rampant is when ants have invaded your kitchen.
---
rampant
growing luxuriantly; flourishing: rampant plants
spreading unchecked; widespread; rife
violent and uncontrollable in action, manner, speech, etc.

Archit.

having one abutment higher than the other: said of an arch

rearing up on the hind legs

Heraldry

depicted thus in profile, with one forepaw raised above the other: a lion rampant
Origin of rampant
Middle English from OFr, present participle of
ramper:
see ramp
---
rampant
adjective
Extending unchecked; unrestrained: a rampant growth of weeds in the neglected yard.
Occurring without restraint and frequently, widely, or menacingly; rife: a rampant epidemic; rampant corruption in city government.

a. Rearing on the hind legs.

b. Heraldry Rearing on the left hind leg with the forelegs elevated, the right above the left, and usually with the head in profile.

Architecture Springing from a support or an abutment that is higher at one side than at the other: a rampant arch.
adverb
In an unrestrained and often menacing manner: vandals running rampant in the city.
Origin of rampant
Middle English
rampaunt
from
Old French
rampant
present participle of
ramper
to ramp
; see
ramp
2
.
Related Forms:
rampant
---
rampant

Adjective
(comparative more rampant, superlative most rampant)
Origin
Recorded since 1382, "standing on the hind legs" (as in heraldry), later, "fierce, ravenous" (1387); from Old French rampant, the past present participle of ramper ("to creep, climb")
---