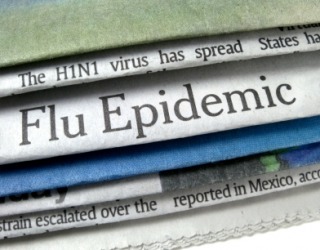 Newspaper headlines report a flu epidemic.
noun
The definition of an epidemic is an outbreak of disease that occurs on a ground scale or a community-wide level.

An example of an epidemic is the AIDs virus during the 1980's.
---
epidemic
prevalent and spreading rapidly among many individuals in a community at the same time: said esp. of a serious human contagious disease
Origin of epidemic
French
épidémique
from Middle French from Medieval Latin
epidemicus
from
epidemia
from Classical Greek
epid?mia
from
epid?mios
, among the people, general from
epi-
, epi- +
d?mos
, people: see democracy
an epidemic disease
the rapid spreading of such a disease
a rapid, widespread occurrence or growth
---
epidemic
also ep·i·dem·i·cal
adjective
Spreading rapidly and extensively by infection and affecting many individuals in an area or a population at the same time: an epidemic outbreak of influenza.
Widely prevalent: epidemic discontent.
noun
An outbreak of a contagious disease that spreads rapidly and widely.
A rapid spread, growth, or development: an unemployment epidemic.
Origin of epidemic
French
épidémique
from
épidémie
an epidemic
from
Old French
espydymie
from
Medieval Latin
epidēmia
from
Greek
epidēmiā
prevalence of an epidemic disease
from
epidēmos
prevalent
epi-
epi-
dēmos
people
; see
dā-
in Indo-European roots.
Related Forms:
---
epidemic

---