population

pop·u·la·tion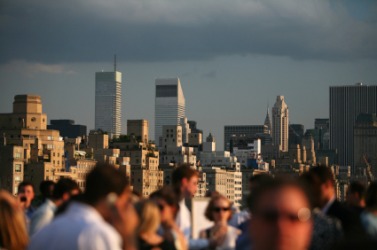 New York City has a large population.
noun
Population is the number of people or animals in a particular place.

An example of population is over eight million people living in New York City.
---
population
all the people in a country, region, etc.
the number of these
a (specified) part of the people in a given area: the Japanese population of Hawaii

a populating or being populated

Biol.

a group of similar organisms living in the same region, esp. organisms of the same species

Statistics

the total set of items, persons, etc. from which a sample is taken
Origin of population
Late Latin
populatio
---
population
noun
a. All of the people inhabiting a specified area.

b. The total number of such people.

The total number of inhabitants constituting a particular race, class, or group in a specified area.
The act or process of furnishing with inhabitants.
Ecology All the organisms of a given species interacting in a specified area.
Statistics The set of individuals, items, or data from which a statistical sample is taken. Also called universe .
---
population

Noun
(plural populations)
The people living within a political or geographical boundary.

The population of New Jersey will not stand for this!

By extension, the people with a given characteristic.

India has the third-largest population of English-speakers in the world.

A count of the number of residents within a political or geographical boundary such as a town, a nation or the world.

The town's population is only 243.
population explosion;  population growth

(biology) A collection of organisms of a particular species, sharing a particular characteristic of interest, most often that of living in a given area.

A seasonal migration annually changes the populations in two or more biotopes drastically, many twice in opposite senses.

(statistics) A group of units (persons, objects, or other items) enumerated in a census or from which a sample is drawn.
(computing) The act of filling initially empty items in a collection.

John clicked the Search button and waited for the population of the list to complete.
Origin
From Late Latin populatio ("a people, multitude"), as if a noun of action from Classical Latin populus.
---