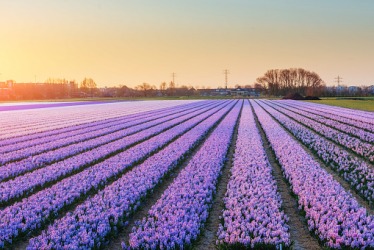 The sun setting over a field populated with daffodils.
verb
Populate is defined as to occupy or fill with people or things.

An example of populate is a large number of people moving to a newly-discovered island.
An example of populate is planting hundreds of flowers in an empty field.
---
populate
transitive verb
-·lat·ed

,

-·lat·ing
to be or become the inhabitants of; inhabit
to supply with inhabitants; people
Origin of populate
from Medieval Latin
populatus
, past participle of
populare
, to populate from Classical Latin
populus
, people
---
populate
transitive verb
pop·u·lat·ed, pop·u·lat·ing, pop·u·lates
To supply with inhabitants, as by colonization.
To live in; inhabit: creatures that populate the ocean depths.
Computers To fill (an empty field or array) with data.
Chemistry To fill (an electron shell of an atom) with electrons.
Origin of populate
Medieval Latin
populāre
populāt-
from
Latin
populus
the people
; see
popular
.
---
populate

Verb
(third-person singular simple present populates, present participle populating, simple past and past participle populated)
To supply with inhabitants; to people.
(computing, transitive/intransitive) To fill initially empty items in a collection.

John clicked the Search button and waited for the list to populate.
Adjective
(comparative more populate, superlative most populate)
(obsolete) populous
Origin
From Medieval Latin populatus, past participle of populo ("to populate").
---
populate - Computer Definition
To plug in chips or components into a printed circuit board. A fully populated board is one that contains all the devices it can hold.
---