pestilence

pes·ti·lence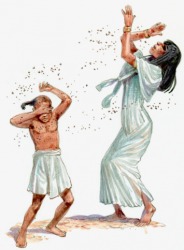 A pestilence of flies surrounding an Egyptian woman and child.
noun
The definition of a pestilence is any infectious, fatal disease that is widespread or an evil influence or deliverer.

An example of a pestilence is the bubonic plague.
An example of a pestilence is a swarm of mosquitoes carrying disease.
---
pestilence
any virulent or fatal contagious or infectious disease, esp. one of epidemic proportions, as bubonic plague
anything, as a doctrine, regarded as harmful or dangerous
Origin of pestilence
Old French from Classical Latin
pestilentia
from
pestilens:
see pestilent
---
pestilence
noun
A usually fatal epidemic disease, especially bubonic plague.
A pernicious, evil influence or agent.
---
pestilence

---