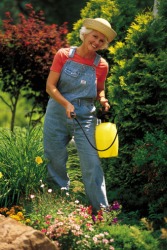 The woman is spraying pesticide to control the insects in her garden.
noun
The definition of a pesticide is a chemical or other substance used to kill unwanted insects or weeds.

A spray used to kill ants is an example of apesticide.
---
pesticide
any chemical used for killing insects, weeds, etc.
Origin of pesticide
from pest + -cide
---
pesticide
noun
A substance or agent used to kill pests, such as unwanted or harmful insects, rodents, or weeds.
Related Forms:
---
pesticide

Origin
pest + -i- + -cide
---