blight

blight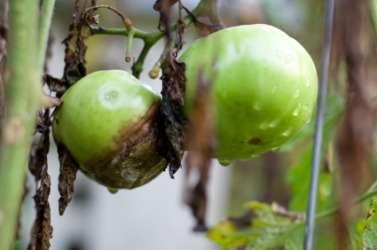 Blight on tomatoes.
noun
The definition of a blight is something that spoils or damages something, or a disease that affects plants, or a general state of neglect and disrepair in an urban area.

An ugly mark that destroys a painting is an example of a blight.
A disease caused by mildew or fungus that harms a plant is an example of blight.
Run-down buildings are an example of urban blight.
verb
To blight is to spoil or destroy something or to cause an urban area to become run-down and neglected.

When you destroy the efforts of someone, this is an example of a time when you blight progress.
When rotting buildings spoil an urban area, this is an example of blight.
---
blight
any atmospheric or soil condition, parasite, or insect that kills, withers, or checks the growth of plants
any of several plant diseases, as rust, mildew, or smut
anything that destroys, prevents growth, or causes devaluation: slums are a blight on a city
a person or thing that withers someone's hopes or ambitions
the condition or result of being blighted
Origin of blight
uncertain or unknown; perhaps akin to Middle English
blichening,
blight, rust (on grain) from
bliknen,
to lose color from Old Norse
blikja,
turn pale: see bleach
to cause a blight in or on; wither
to destroy
to disappoint or frustrate
---
blight
noun
a. Any of numerous plant diseases resulting in sudden conspicuous wilting and dying of affected parts, especially young, growing tissues.

b. The condition or causative agent, such as a bacterium, fungus, or virus, that results in blight.

a. An agent or action that harms or ruins the value or success of something: "the heavy-handed, moralistic parenting that was the blight of the traditional family" ( Theodore Roszack )

b. A condition or result of harmful or ruinous action: policies that lifted the city from economic blight.
verb
blight·ed, blight·ing, blights
verb
transitive
To cause (a plant, for example) to undergo blight.
To have a deleterious effect on; ruin. See Synonyms at blast.
verb
intransitive
To suffer blight.
Origin of blight
Origin unknown
---
blight

Noun
(countable and uncountable, plural blights)
Verb
(third-person singular simple present blights, present participle blighting, simple past and past participle blighted)
To affect with blight; to blast; to prevent the growth and fertility of.
(intransitive) To suffer blight.

This vine never blights.

to spoil or ruin (something)

Those obscene tattoos are going to blight your job prospects.
Origin
From Old Norse blikna ("to grow pallid") .
---