smut

smut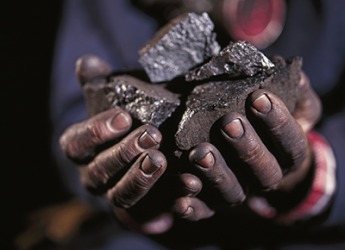 The coal miner has smut all over his hands.
noun
Smut is small flakes of dirt, or lewd or obscene pictures, movies or other media.

Small particles of soot are an example of smut.
Pornographic magazines are an example of smut.
---
smut
sooty matter
a particle of this

a mark made by something dirty; soiled spot
pornographic or indecent talk, writing, etc.

Bot.

any of various plant diseases, esp. of cereal grasses, characterized by the appearance of masses of black spores which usually break up into a fine powder
any of an order (Ustilaginales) of basidiomycetous fungi causing smut
Origin of smut
from or akin to Low German
smutt
, akin to German
schmutz
, dirt from Indo-European an unverified form
(s)meud-
from base an unverified form
meu-
, wet, musty from source mud, moss
transitive verb
smut′ted

,

smut′ting
to mark or affect with smut
Origin of smut
later var. of ME
smoten
, besmirch
to be marked or affected by smut
---
smut
noun
a. A particle of dirt or soot: "the smoke and flames blowing from the lantern which peppered him with large black smuts" ( Joyce Cary )

b. A smudge made by soot, smoke, or dirt.

Sexually explicit or prurient language or material, such as books or movies.
See smut fungus.
verb
smut·ted, smut·ting, smuts
verb
transitive
To blacken or smudge, as with smoke or grime.
To affect (a plant) with smut fungus.
verb
intransitive
To be or become blackened or smudged.
Origin of smut
From
Middle English
smotten, smutten
to defile
Related Forms:
---
smut

Noun
(countable and uncountable, plural smuts)
(uncountable) Soot.
(uncountable) Sexually vulgar material; something that is sexual in a dirty way; pornographic material.
(uncountable) Obscene language; ribaldry; obscenity.
(derogatory) A promiscuous woman.
Any of a range of fungi, mostly Ustilaginomycetes, that cause plant disease in grasses, including cereal crops; the disease so caused.
Verb
(third-person singular simple present smuts, present participle smutting, simple past and past participle smutted)
(intransitive) To gather smut; to be converted into smut; to become smutted.

To taint (grain, etc.) with the smut fungus.

To clear of the smut fungus.

to smut grain for the mill
Origin
Late Middle English, related to German verb schmutzen (to make dirty)
---