judgment

judg·ment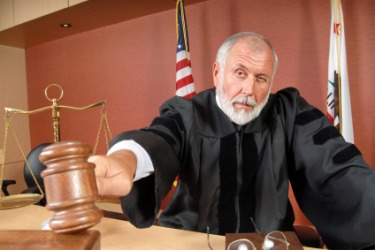 The judgement of the court is delivered.
noun
The definition of judgment is an opinion, decision or a sentence given by a court of law.

An example of judgment is a blonde woman automatically being treated as dumb.
An example of judgment is someone being sentenced to two months in prison for a crime committed.
---
judgment
the act of judging; deciding
a legal decision; order, decree, or sentence given by a judge or law court

a debt or other obligation resulting from a court order
a document recording this obligation

a misfortune looked on as a punishment from God
an opinion or estimate
criticism or censure
the ability to come to opinions about things; power of comparing and deciding; understanding; good sense

Bible

justice; right
[J-] Last Judgment
Origin of judgment
Middle English
jugement
from Old French from Medieval Latin
judicamentum
from Classical Latin
judicare:
see judge, transitive verbintransitive verb
---
judgment
also judge·ment
noun
a. The act or process of judging; the formation of an opinion after consideration or deliberation.

b. An opinion or estimate formed after consideration or deliberation, especially a formal or authoritative decision: awaited the judgment of the umpire.

a. The mental ability to perceive and distinguish relationships; discernment: Fatigue may affect a pilot's judgment of distances.

b. The capacity to form an opinion by distinguishing and evaluating: His judgment of fine music is impeccable.

c.

The capacity to assess situations or circumstances and draw sound conclusions; good sense:

She showed good judgment in saving her money.

See Synonyms at

reason

.

Law

a. A determination of a court of law; a judicial decision.

b. A court decision establishing that an obligation is owed, such as a debt.

A misfortune believed to be sent by God as punishment for sin.
Judgment The Last Judgment.
Origin of judgment
Middle English
jugement
from
Old French
from
jugier
to judge
from
Latin
iūdicāre
; see
judge
.
---
judgment

Usage notes
See Judgment: Spelling for discussion of spelling usage of judgment versus judgement. Briefly, without the -e is preferred in law globally, and in American English, while with the -e is preferred in British English.
Like abridgment, acknowledgment, and lodgment, judgment is sometimes written with English spellings in American English, as judgement (respectively, abridgement, acknowledgement, and lodgement).
The British spelling preserves the rule that G can only be soft while preceding an E, I, or Y.
Origin
From Old French jugement, from Late Latin iūdicāmentum.
---
judgment - Legal Definition
n
A court's final resolution of the issues before it at trial or upon a dispositive motion.
default judgment
A judgment entered due to the failure of the defendant to answer or otherwise respond to the claim.
deficiency judgment
A judgment in favor of a creditor following a forced sale of property, for the difference between the amount owed and the amount collected as a result of the sale, so as to fully compensate the creditor.
final judgment
A judgment which fully ends a case, on its merits (as opposed to on procedural grounds).  A final judgment is generally necessary before a party can file an appeal. 
foreign judgment
A judgment of a different state or country than the one in which the judgment is being challenged or as to which enforcement is sought. 
judgment creditor
A creditor who has obtained, through judicial process, a judgment against a debtor; commonly used in bankruptcy proceedings to distinguish such a creditor from others to whom the debtor owes money but do not have judgments.  Judgment creditors may be entitled to preferential distribution of a debtor's money if there are insufficient assets to pay all creditors. 
judgment debtor
A debtor who owes money to a creditor who has obtained a judgment against the debtor in that amount.  See judgment creditor. 
judgment docket
A roll or listing of judgments maintained by a clerk or administrative office of a court.
judgment in rem
A judgment that disposes of property, or resolves competing interests in a piece of property, as opposed to a judgment that is against a person ordering payment of money. 
judgment lien
A lien against property that results from a judicial proceeding in which a monetary award has been made and has been reduced to judgment; until payment of the judgment, a lien will be placed against all real property (and some personal property) of the individual or entity that owes payment of the judgment. 
judgment non obstante veridicto
Latin
Latin.  Judgment notwithstanding the verdict.  In rare cases, a judge may enter a judgment in favor of one party despite a jury's award against that party; generally in cases where the evidence was such that no reasonable jury could have come to the determination that it did. Abbreviated j.n.o.v.
judgment of conviction
The final decision in a criminal case, which includes the plea taken by the defendant, the verdict, any court findings, and the ultimate sentence. 
judgment of dismissal
A judgment invalidating or otherwise disposing of the plaintiff's or the prosecutor's claims prior to a trial.
judgment on the merits
A judgment issued after the parties have had a full chance to present evidence and witnesses at trial.
judgment on the pleadings
A judgment that is issued on the pleadings alone, either on the basis that the plaintiff's pleadings are inadequate or that the defendant has failed to plead any fact that negates the plaintiff's claims or raises an affirmative defense.
personal judgment
A judgment imposing personal liability on a defendant.
---