slip

SLIP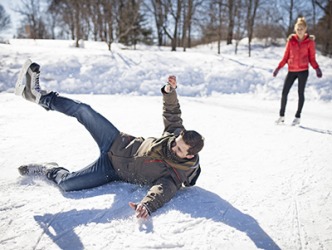 Mike was trying not to slip on the ice but he was still learning how to ice skate and hadn't mastered the technique yet.
noun
The definition of a slip is a mistake in judgment or footing.

An example of slip is accidentally telling someone about her surprise birthday party.
verb
Slip is defined as to slide out of place or to quietly move without being seen.

An example of slip is to trip and land on the ice while skating.
An example of slip is to leave a room without being noticed.
---
slip
intransitive verb
slipped

,

slip′ping
to go quietly or secretly; move without attracting notice: to slip out of a room

to go, move, pass, etc. smoothly, quickly, or easily
to get (into or out of clothes) quickly
to go imperceptibly; pass unmarked: time slipped by

to pass gradually into or out of some condition, activity, habit, opinion, etc.: to slip off to sleep
to escape or pass from a person's memory, mind, power, grasp, etc.: to let a chance slip by
to move out of place by sliding; shift or slide from position: a napkin slipping from one's lap
to slide accidentally on a slippery surface, lose footing, etc.
to make a mistake; fall into error; err
to become worse; lose strength, ability, mental keenness, etc.
to decline slightly; fall off: a slipping market

Aeron.

sideslip
Origin of slip
Middle English
slippen
from MLowG, akin to Old High German
slifan
from Indo-European an unverified form
(s)leib-
, to glide, slip from base an unverified form
(s)lei-
, slimy: see slide
to cause to slip or move with a smooth, sliding motion
to put (on) or take (off) quickly or easily, as an article of clothing
to put, pass, insert, etc. quickly, deftly, or stealthily: to slip a pill into one's mouth, to slip in a cutting remark

to escape or pass from (the mind or memory)

Now Rare

to let pass unheeded; overlook; miss

to get loose or away from (a restraint, pursuer, etc.); become free of: the dog slipped its leash
to let loose (hounds) to pursue game
to transfer (a stitch) from one needle to another without knitting it, as in forming patterns in, or decreasing the width of, a knitted piece
to slink (a fetus)
to put out of joint; dislocate

Naut.

to free an anchored ship from (the anchor) by parting or unshackling the cable
slipway
a water channel between piers or wharves, used for the docking of ships

a leash for a dog made so that it can be released quickly

a woman's sleeveless undergarment the same length as a dress, usually suspended from shoulder straps
a petticoat or half slip

a cloth cover for a pillow
an act of slipping, sliding, or falling down
a deviation or turning aside, esp. from a practice, course of conduct, etc. considered right
an error or mistake, esp. one made inadvertently in speaking, writing, etc.
an accident or mishap
the amount or degree of operative inefficiency of a mechanical device, expressed in terms of the difference between theoretical and actual output
movement of one part upon another, usually where no movement is meant to exist; play

Aeron.

sideslip

Cricket

a fielder placed behind the wickets on the off side of the batter

Geol.

any movement displacing parts of rock or soil masses in relation to one another; small fault or landslide
a smooth surface or joint where such movement has taken place

Metallurgy

the process by which plastic deformation is produced in metal crystals by one part of a crystal moving in relation to another, usually in a particular crystallographic plane
give someone the slip
Slang
to evade or escape from someone
let slip
to say or reveal without intending to
slip one over on
Informal
to trick; hoodwink; cheat
slip up
Informal
to make a mistake, esp. a careless one
a stem, root, twig, etc. cut or broken off a plant and used for planting or grafting; cutting; scion
a young, slim person: archaic except in the phrase

slip of a

: a mere slip of a girl
a long, thin piece or strip, as of cloth
a small piece of paper, esp. one prepared for a specific use: an order slip
a narrow church pew
Origin of slip
Middle English
slippe
from Middle Dutch from
slippen
, to cut
transitive verb
slipped

,

slip′ping
to take a slip from (a plant) for planting or grafting
Ceramics
clay thinned to the consistency of cream for use in decorating or casting, or as a cement or coating
Origin of slip
Middle English from Old English
slyppe, slypa
, paste, slime, dropping from Indo-European base an unverified form
(s)leub-
, to glide, slip from source sleeve, Classical Latin
lubricus
, slippery
---
slip
verb
slipped, slip·ping, slips
verb
intransitive
a. To move smoothly, easily, and quietly: slipped into bed.

b. To move stealthily; steal: slipped out the back door.

a. To escape, as from a grasp, fastening, or restraint: slipped out of the wrestler's hold.

b. To put on or remove a piece of clothing smoothly or quietly: slipped into a nightgown; slipped out of the shirt.

a.

To slide involuntarily and lose one's balance or foothold. See Synonyms at

slide

.

b. To move accidentally out of place or fail to gain traction: The gear slipped.

a. To pass gradually, easily, or imperceptibly into a different state: He slipped into a coma.

b. To decline from a former or standard level; fall off: The senator's popularity has slipped.

c. To elapse, especially quickly or without notice: The days slipped by.

To fall into fault or error. Often used with up.
verb
transitive
a. To place or insert smoothly and quietly: She slipped the letter into her pocket.

b. To insert (a remark, for example) unobtrusively: managed to slip his criticisms in before the end of the meeting.

To put on or remove (clothing) easily or quickly: slip on a sweater; slipped off her shoes.

a. To get loose or free from; elude: slipped his pursuers.

b. To fail to be remembered by: Her name slips my memory.

a. To release, loose, or unfasten: slip a knot.

b. To unleash or free (a dog or hawk) to pursue game.

To give birth to prematurely. Used of animals.
To dislocate (a bone).
To pass (a knitting stitch) from one needle to another without knitting it.
noun
The act or an instance of slipping or sliding.
An accident or mishap, especially resulting in a fall.

a. An error in conduct or thinking; a mistake.

b. A slight error or oversight, as in speech or writing: a slip of the tongue.

Nautical

a. A docking place for a ship between two piers.

b. A slipway.

Nautical The difference between a vessel's actual speed through water and the speed at which the vessel would move if the screw were propelling against a solid.

a. A woman's undergarment of dress length with shoulder straps.

b. A half-slip.

A pillowcase.
Geology

a. A smooth crack at which rock strata have moved on each other.

b. A small fault.

c. The relative displacement of formerly adjacent points on opposite sides of a fault.

The difference between optimal and actual output in a mechanical device.
Movement between two parts where none should exist, as between a pulley and a belt.
A sideways movement of an airplane when banked too far.
Phrasal Verbs:
slip away
To depart without being noticed:
We slipped away before the presentation was over.
To die gradually or peacefully.To disappear or become unavailable:
Don't let the opportunity slip away.
Origin of slip
Middle English
slippen
probably of Middle Low German or Middle Dutch origin
; see
lei-
in Indo-European roots.
noun
A part of a plant cut or broken off for grafting or planting; a scion or cutting.
A long narrow piece; a strip.
A slender youthful person: a slip of a child.
A small piece of paper, especially a small form, document, or receipt: a deposit slip.
A narrow pew in a church.
transitive verb
slipped, slip·ping, slips
To make a slip from (a plant or plant part).
Origin of slip
Probably from
Middle Low German
or
Middle Dutch
slippe
noun
Thinned potter's clay used for decorating or coating ceramics.
Origin of slip
Middle English
slime
from
Old English
slypa
; see
sleubh-
in Indo-European roots.
SLIP
abbreviation
Serial Line Internet Protocol
---
slip

Origin
Old English slype, of uncertain origin.
Noun
(plural slips)
A young person (now usually with of introducing descriptive qualifier).

She couldn't hurt a fly, young slip of a girl that she is.

A long, thin piece of something.
A small piece of paper, especially one longer than it is wide.
Origin
Probably from Middle Dutch slippe or Middle Low German slippe. Compare Dutch slip, German Schlippe.
Verb
(third-person singular simple present slips, present participle slipping, simple past and past participle slipped)
(intransitive) To err.
(intransitive) To move or fly (out of place); to shoot; often with out, off, etc.

A bone may slip out of place.

To pass (a note, money, etc.) often covertly.

She thanked the porter and slipped a ten-dollar bill into his hand.

To cause to move smoothly and quickly; to slide; to convey gently or secretly.
(intransitive) To move quickly and often secretively; to depart, withdraw, enter, appear, intrude, or escape as if by sliding.

Some errors slipped into the appendix.

(falconry) To release (a dog, a bird of prey, etc.) to go after a quarry.
(cooking) To remove the skin of a soft fruit, such as a tomato or peach, by blanching briefly in boiling water, then transferring to cold water so that the skin peels, or slips, off easily.
To cut slips from; to cut; to take off; to make a slip or slips of.

to slip a piece of cloth or paper

To cause to slip or slide off, or out of place.

A horse slips his bridle; a dog slips his collar.

To bring forth (young) prematurely; to slink.
Noun
(plural slips)
An act or instance of slipping.

I had a slip on the ice and bruised my hip.

A women's undergarment worn under a skirt or dress; a shift.
(nautical) A difference between the theoretical distance traveled per revolution of the propeller and the actual advance of the vessel.
(medicine) A one-time return to previous maladaptive behaviour after cure.
(cricket) Any of several fielding positions to the off side of the wicket keeper, designed to catch the ball after being deflected from the bat; a fielder in that position (See first slip, second slip, third slip, fourth slip and fifth slip.)
A number between 0 and 1 that is the difference between the angular speed of a rotating magnetic field and the angular speed of its rotor, divided by the angular speed of the magnetic field.
A leash or string by which a dog is held; so called from its being made in such a manner as to slip, or become loose, by relaxation of the hand.
An escape; a secret or unexpected desertion.

He gave the warden the slip and escaped from the prison.

(printing, dated) A portion of the columns of a newspaper etc. struck off by itself; a proof from a column of type when set up and in the galley.
(dated) A child's pinafore.
An outside covering or case.

a pillow slip
the slip or sheath of a sword

Matter found in troughs of grindstones after the grinding of edge tools.

A particular quantity of yarn.
(UK, dated) A narrow passage between buildings.
(US) A long seat or narrow pew in churches, often without a door.
(mining) A dislocation of a lead, destroying continuity.

(engineering) The motion of the centre of resistance of the float of a paddle wheel, or the blade of an oar, through the water horizontally, or the difference between a vessel's actual speed and the speed it would have if the propelling instrument acted upon a solid; also, the velocity, relatively to still water, of the backward current of water produced by the propeller.
A fish, the sole.
slip through one's fingers
slip away
slip down
slip into
slip road
slip out
slip up
there's many a slip twixt cup and lip
Origin
Apparently from Middle Low German slippen (Dutch slippen, German schlippen).
---
slip - Computer Definition

A Link Layer packet framing protocol that defines a sequence of characters that frame IP packets on a serial line. SLIP provides no addressing, packet type identification, error control, or compression mechanisms. SLIP is defined in RFC 1055 as a nonstandard protocol for transmission of IP datagrams, in the formal sense, although it has become a de facto standard. RFC 1144 defines Compressed SLIP (CSLIP), a method for improving TCP/IP performance over low-speed (300 bps to 19.2 kbps) serial lines by compressing the TCP/IP headers. Point-to-Point Protocol (PPP) performs the same basic functions as SLIP, plus compression and other functions. See also compression, datagram, error control, header, IP, Link Layer, packet, PPP, protocol, serial communications, standard, and TCP/IP.
---
(Serial Line IP) A communications protocol for dial-up access to TCP/IP networks. It was commonly used to gain access to the Internet as well as to provide dial-up access between LANs. SLIP transmits IP packets over any serial link (dial up or private lines). SLIP has been mostly superseded by the Point-to-Point Protocol (PPP). See CSLIP and PPP.
---