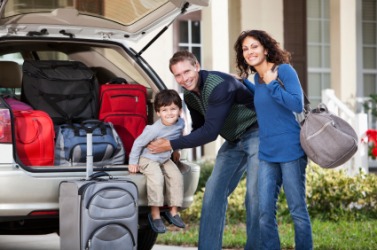 A family about to undertake a journey.
verb
Undertake means to start something or agree to do something.

An example of to undertake is to begin a journey.
An example of to undertake is to sign a contract for a new job.

To undertake is defined as to manage funerals and burials.

An example of to undertake is run a funeral home.
---
undertake
transitive verb
-·took′

,

-·tak′en

,

-·tak′ing
to take upon oneself; agree to do; enter into or upon (a task, journey, etc.)
to give a promise or pledge that; contract: he undertook to be their guide
to promise; guarantee
to make oneself responsible for; take over as a charge
Origin of undertake
Middle English
undertaken:
see under- and take
Archaic

to take on responsibility, pledge oneself, guarantee, or be surety (for)

Informal

to work as an undertaker (sense )
---
undertake
verb
un·der·took, un·der·tak·en, un·der·tak·ing, un·der·takes
verb
transitive
To deliberately begin to do (something): undertake a task.
To pledge or commit oneself (to do something): undertake to care for an elderly relative.
To promise or guarantee: "The man undertook that one room at least should be ready for occupation the next day" ( Thomas Hardy )
verb
intransitive
Archaic
To make oneself responsible. Used with for.
---
undertake

Verb
(third-person singular simple present undertakes, present participle undertaking, simple past undertook, past participle undertaken)
(intransitive) To commit oneself (to an obligation, activity etc.).

He undertook to exercise more in future.

(informal) to overtake on the wrong side.

I hate people who try and undertake on the motorway.

Shakespeare

who undertakes you to your end
Usage notes
Sense: To commit oneself. This is a catenative verb that takes the to infinitive.
Origin
From Middle English undertaken, equivalent to under- +"Ž take (after undernim).
---