essay

es·say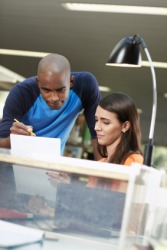 Two students working on an essay together.
noun
The definition of an essay is a short piece of writing that expresses information as well as the writer's opinion.

An example of an essay is a short paper about why smoking is bad for you.
verb
To essay is defined as to try something.

An example of to essay is to ask a date specific questions to see if they are a good match for you.
---
essay
to test the nature or quality of; try out
to try; attempt
Origin of essay
Old French
essayer
from Vulgar Latin an unverified form
exagiare
from Late Latin
exagium
, a weight, weighing from
ex-
, out of +
agere
, to do: see act
a trying or testing
an attempt; trial

a short literary composition of an analytical, interpretive, or reflective kind, dealing with its subject in a nontechnical, limited, often unsystematic way and, usually, expressive of the author's outlook and personality
a proposed design for a new postage stamp or piece of paper money
Origin of essay
OFr
essai
< LL
exagium
---
essay
noun
a. A short literary composition on a single subject, usually presenting the personal view of the author.

b. Something resembling such a composition: a photojournalistic essay.

A testing or trial of the value or nature of a thing: an essay of the students' capabilities.
An initial attempt or endeavor, especially a tentative attempt.
transitive verb
es·sayed, es·say·ing, es·says
To make an attempt at; try.
To subject to a test.
Origin of essay
French
essai
trial, attempt
from
Old French
from
essayer
to attempt
from
Vulgar Latin
exagiāre
to weigh out
from
Late Latin
exagium
a weighing
Latin
ex-
ex-
Latin
agere
to drive
; see
ag-
in Indo-European roots.
V., from
Middle English
assaien
from
Old French
assaer, assaier
variant of
essayer
Related Forms:
---
essay

Noun
(plural essays)
A written composition of moderate length exploring a particular issue or subject.
(now rare) An attempt.
Verb
(third-person singular simple present essays, present participle essaying, simple past and past participle essayed)
(dated) To try.
(intransitive) To move forth, as into battle.
---